Have you ever found yourself staring down the long aisle of cooking oils at the grocery store, feeling totally lost? Avocado oil? Extra virgin olive oil? Light olive oil? Coconut oil? So many different options to choose from!
Understanding and choosing the right cooking oil is an important aspect of healthy cooking, both due to the flavour profiles for each oil, as well as due to the variety of nutritional benefits some of them can provide such as promoting heart health and preventing chronic diseases. Cooking oils are also one of the topics we get frequent questions from our clients.
Read on to learn more about:
The different types of cooking oils
What 'smoke point' means and why it may or may not matter
The most common cooking oils and what they are best for. Scroll down for a FREE CHEAT SHEET featuring 17 oils and their smoke points, flavour profiles and ideal uses!
The top oils to have stocked in your kitchen
What are cooking oils?
Oils in general are the fatty component of seeds, nuts, grains, fruits and vegetables, which are extracted through crushing or pressing. The term 'fats' and 'oils' are sometimes used interchangeably, as oils are simply the liquid forms of fat. Note: we will be discussing animal-based cooking oils as well!
Why do we need oils in cooking?
Oils are used to cook foods from vegetables, meats, eggs to soups and sauces, and are also used as a finishing touch for dishes including salads, rice, and pizzas, to name a few. Not only do oils help to add flavour, but using oils dishes can actually help in absorbing certain nutrients, such as beta-carotene. That being said, each cooking oil is different not just in terms of their nutritional value, but also in terms of their uses in cooking different foods, and knowing the differences between them is important in order to get the best possible value from each oil!
What are the different types of cooking oils?
In general, we classify dietary fats and oils based on their degree of 'saturation. Why? The degree of saturation affects both the cooking qualities and the health effects of oils and fats. Most fats and oils contain a mix of different fatty acid types, so they are classified according to the type that is most predominant.
Let's get down to the details and review the three different types of fats found in cooking oils!
Saturated fats
These are found in coconut oil, butter, ghee, and palm oil. Palm oil is typically used as a food additive, however, rather than in conventional cooking like other oils. Saturated fats are usually solid at room temperature.
Are also found in red meats such as beef and pork
Increase LDL or "bad" cholesterol levels in the body.
Increase the risk of heart disease and stroke.
Trans fats
Fully banned as a food additive in Canada as of September 2020.
Found in fried foods made with vegetable shortenings such as fries, donuts, pastries, and other baked goods.
Also found in stick margarine.
Increase LDL or "bad" cholesterol levels in the body.
Decrease HDL or "good" cholesterol levels in the body.
Can increase the risk of a heart attack due to the buildup of fatty deposits in arteries.
Unsaturated fats (monounsaturated and polyunsaturated omega-3 and omega-6 fats)
Found in peanut, canola oil, olive oil, flax oil, walnut oil, avocado oil, vegetable oil, and soybean oil. Unsaturated fats are generally liquid at room temperature.
Also found in avocados, non-hydrogenated margarine, and salmon.
Lowers LDL or "bad cholesterol" levels.
The polyunsaturated Omega-3 fats are anti-inflammatory, aid in preventing blood clots and reducing the risk of strokes, as well as being essential for brain health and may increase HDL of 'good' cholesterol levels
Omega-6 fats can both cause inflammation lower HDL cholesterol levels in addition to LDL levels, so choosing fats higher in monounsaturated and omega-3 fats is a better choice
What is the heat/smoke point in cooking oils? Why does it matter?
The heat/smoke point of an oil is the temperature at which oils and fats stop shimmering and start to smoke. Beyond this point, you start to lose valuable nutrients found in the oil such as polyphenols and antioxidants, in addition to the food developing unpleasant odours and tastes. Additionally, when an oil is heated past its smoke point, it can generate toxic fumes and free radicals that can damage the cells in your body. For anyone interested in achieving their best health, it is crucial to know the different smoke points of different oils, in addition to the best cooking methods that can be used with each of them in order to maximize their nutritional value.
It is also important to consider that when it comes to trans fats, studies have found that any fats/oils subjected to high temperatures can produce high levels of trans fatty acids and saturated fatty acids while reducing the content of unsaturated fatty acids, which is nutritionally unfavourable. So in general, it's best not to use very high heat for prolonged cooking (such as deep-frying).
Smoke point ranges and cooking methods
| | |
| --- | --- |
| Type of Heat | Best Used For |
| Very Low or No Heat (<107 C) | Best used for finishing a dish such as in dressings, dips or marinades. |
| Low Heat (150 C -185 C) | Suitable for low-medium cooking, sauteing, and sauces. |
| Medium Heat (190 C – 218 C) | Suitable for baking, sauteing, or medium/high heat marinades, sauces and dressings. |
| High Heat (220 C – 270 C) | Can be used for frying, stir-frying, sauteing, broiling or any other high heat cooking method. |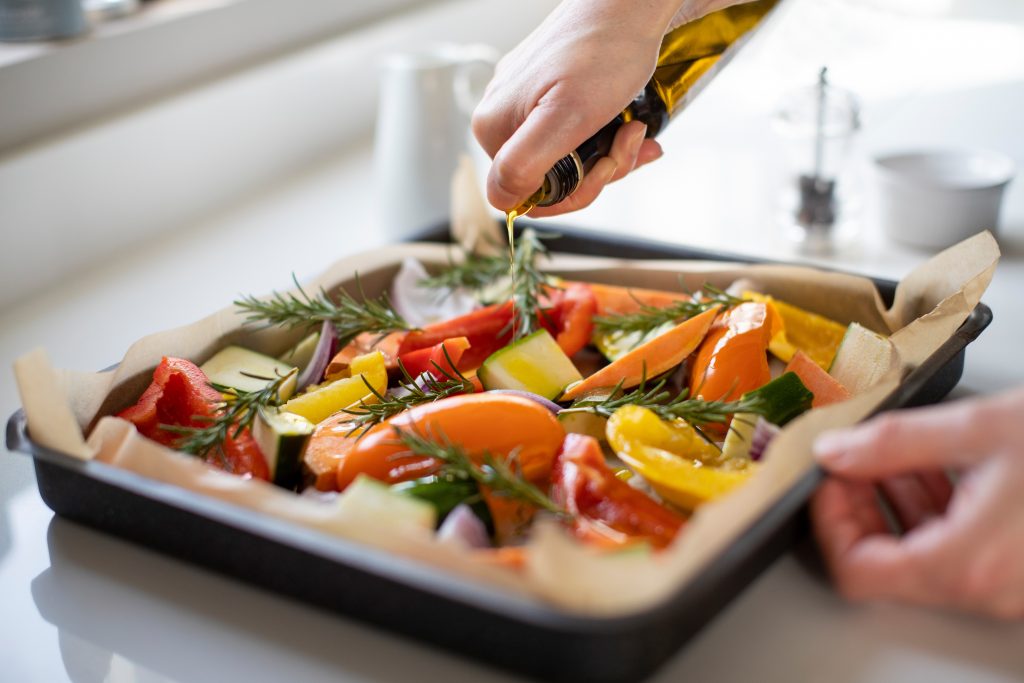 Common cooking oils, smoke points and uses
Download the complete cooking oil cheat sheet!
Our top picks for cooking oils
Higher heat cooking (grilling proteins, high heat stir-frying): Avocado oil, which is high in monounsaturated fats and adds a mild flavour to foods.
Lightly sauteed: Sesame oil. Use the water or soup broth method to get things going and then use a small amount of sesame oil to finish the cooking and add a nice flavour to the dish.
Dressing and finishing: Extra virgin olive oil. They are expensive, so do your research and find one you like the flavour of best!
We hope that you found this blog to be informative! If you have any questions about cooking oils and the best ones for you, reach out to one of our expert dietitians to support you.
Request a Free Call with A Registered Dietitian!