Build Healthy Eating Habits For Life And Never Diet Again!
Do you experience low energy levels, the afternoon crash, feel scattered or continually get sick? What about steady weight gain or fluctuating weight? Food is our #1 tool to fight off sickness, optimize our health and help manage how we feel daily! Through our coaching, you will build healthy eating habits for life!
Our Healthy Eating Coaching Incorporates:
Optimizing food groups and how to pair them based on your health and nutritional needs
Best portions for you, based on your activity levels, goals, and lifestyle
Education beyond knowing that we need to consume fruits and vegetables, whole-grain carbohydrates, dairy options, healthy proteins and fats and that we should minimize processed/packaged foods, fast food, sugary beverages, alcohol and salt.
Pro tips for meal planning, grocery shopping and prepping to help build long-lasting healthy eating routines and habits
Finding a balanced approach incorporating some of your favourite indulgences, including how to eat at restaurants and on vacation
How to find a mindful and intentional approach to eating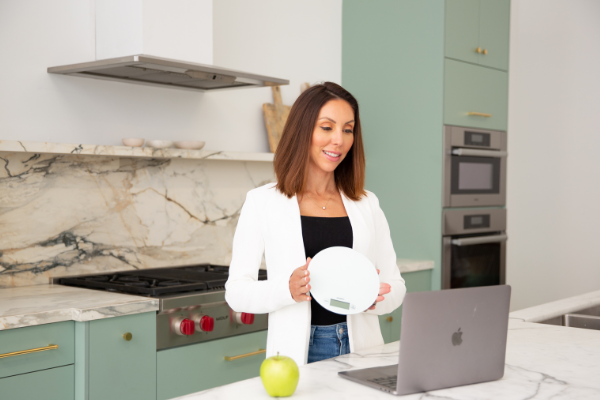 Healthy eating is essential for everyone, no matter your goals or lifestyle. Our dietitians are here to provide you with the knowledge and support to live a healthy life. Remember, it is never too late, or too early, to make healthy eating changes and enjoy the benefits!
Book A FREE Call With A Dietitian To Find Out If Our Approach Would Work For You!
What Our Clients Say:
When my family doctor recommended a dietitian I wasn't sure what to expect, but I couldn't be more happy with the results! Janelle is very positive, understanding, and knowledgeable. She works with you from where you're at and gently encourages you in a healthier direction by giving you the tools to understand your eating patterns and providing knowledge about the food we eat. I've been very successful with the eating plan she designed for me. I even did the genetic testing which has provided even more knowledge that I never would've known otherwise. I'm amazed at how precise this field of study is and how much dietitians know about food and vitamins and minerals and how to maintain health in the long run. It's such a specialized area and I think every person should consult with a dietitian for their health. I realize now that it's not enough to look at books and magazines and online; you really need somebody who is well studied in the area. I have even greater respect for this field after working with Janelle. I would highly recommend her! She's just wonderful! Pauline Richards, June 2022 via Google
I started this journey with NutriProcan 3 months ago and I can truly say its been the best experience I have had with a Dietician. I have been fortunate to work with Nishaat Patel who has been so supportive and instrumental in working toward my health goals. It is truly impressive to see the change from when I started the process to progressing along the journey, with consistent appointments with Nishaat, in between answers to my numerous questions, reassurance and support each step of the way with how I was doing and flexibility to change up plans based on my hectic lifestyle. This whole journey and the results to date has changed how I feel about myself, how I am more conscious of what I am eating and finally, how rejuvenated I feel again. I can't thank you enough Nishaat for your support for me! i recommend you to all my friends! Sangeeta Shah, May 2022 via Google
Nothing but good things to say about this company! Ive been working with Heidi since the end of last year and, with her guidance and support, I've taken control of my health. She has helped me address gastrointestinal issues as well as manage my triglycerides, but, most importantly, I FEEL so much better and for that I am truly grateful. Heidi incredibly is knowledgeable and easy to talk to. Her non-judgemental, realistic approach made it easy to attain my goals. I'm glad I made the decision to invest in my health, and I look forward to continue working with Heidi as I learn consistency in maintaining a healthy lifestyle. Cannot recommend enough! Nadia Kelman, April 2022 via Google
Tell Us About Your Goals And We Will Contact You!