Dietitian Recommendations for Supplements
Food always comes first, but we know that supplements can lead to improved health outcomes.
Our dietitians will consider your overall health, nutrition goals, medical conditions, current intake, food preferences, and blood work when making personalized recommendations for you.
Shop Supplements Online
What Are the Common Supplement Needs?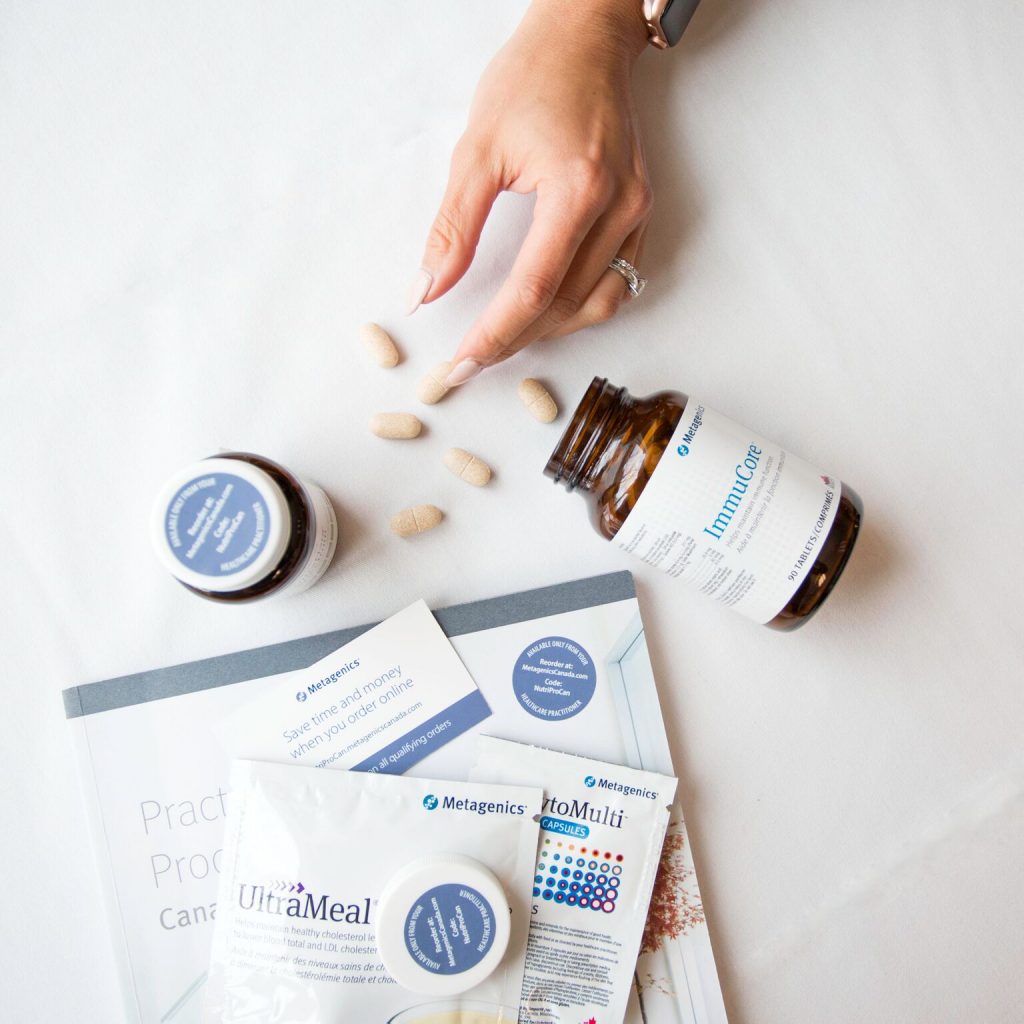 Pregnant women: prenatal vitamins
Women who are breastfeeding: multivitamin, vitamin D and omega-3s
Women with excessive bleeding during menstruation: iron supplements
Some vegetarians and vegans: vitamin B12, vitamin D, iron, omega-3s
Athletes, both recreational and professional: multi-vitamins, iron, vitamin D, ergogenic aids such as creatine and beta-alanine
Older adults: multi-vitamin, vitamin D, calcium and magnesium
People with allergies or intolerances to particular foods or food groups: multi-vitamin, omega-3s
People with malabsorption issues: multi-vitamins, vitamins A,D, E and K, omega-3s
People with IBS, IBD, and other digestive disorders: probiotics, pre-biotics and fibre supplements, anti-bacterial agents
Those on medications: vitamin D, multivitamins, CoQ10
People who drink alcohol above the recommended amount: multivitamin, liver support nutrients, folic acid
Cigarette smokers: anti-oxidants, vitamin C
Crash dieters or people on chronic low-calorie diets: multi-vitamin, omega-3s, metabolic and appetite suppression supplements
Those low in certain blood markers (eg. iron)
Those with certain health conditions and concerns (eg. heart disease, thyroid issues, PCOS, osteoporosis, etc): Omega-3s, thyroid support, hormonal support, CoQ10, bone health support, blood sugar health support, medical foods
Why NutriProCan Dietitians Make Supplement Recommendations?
There are several products in the market that may not meet Canadian standards and may not have gone through the same reliable checks as products from more reputable companies. As a result, there could be less of the active ingredient than claimed, or the product could contain "filler" ingredients harmful to your health. Some ingredients to look out for include Red Dye 40, hydrogenated oils and magnesium silicate. We help clients find research-based supplements and vitamins that meet Canadian standards. To help you choose the right supplements and avoid wasting money, we offer free 15-minute supplement review consultations. 
Learn more about supplements on our blog:
Are you planning to book a Full Initial Assessment? If yes, then you won't need a stand-alone supplement review. The Full Initial Assessment includes a review of your current supplements and personalized recommendations based on your situation and needs.
Metagenics, UltraInflaX, Ultra Glucose Control, UltraFlora, UltraClear, SPM Active, OmegaGenics, HemaGenics and D3 1000 are trademarks of Metagenics, Inc. and are used with permission. This site is not owned or operated by Metagenics, Inc. If and when clinically indicated, we may make supplement recommendations. Supplement recommendations are not prescriptions and are not mandatory. All clients will receive the same level of care whether they use supplements or not. While we have chosen high-quality supplement companies to work with, we are not responsible for the quality, efficacy nor safety of the supplements. A small portion of the cost of the supplements is claimed by NutriProCan. Supplements are not an alternative for prescription medications and speak with your doctor before stopping or changing any of your medications. If at any time you experience any unwanted side effects, stop supplement(s) immediately.