IBS TREATMENT BY REGISTERED DIETITIANS:
By using a combination of low-FODMAP eating techniques and supplements (if needed), your IBS Dietitian will help you to manage your symptoms while still meeting your nutrition needs and managing life's demands.
Relieve or resolve the following IBS symptoms:
Bloating
Gas
Abdominal pain (cramping)
Constipation
Diarrhea
A feeling of incomplete emptying of the bowels
Heartburn and nausea
The online counselling program consists of a personalized low-FODMAP IBS diet, recipes, high-quality supplements where needed, structured meal planning, coaching sessions and support for overcoming any barriers or making lifestyle and habit changes. Our registered dietitians are also knowledgeable about nutrient-drug interactions to help ensure your plan is safe and comprehensive.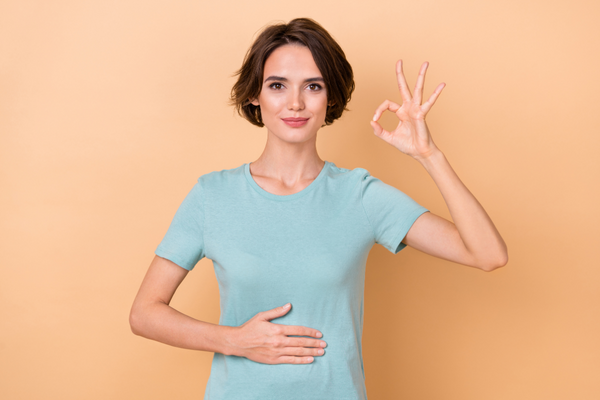 Our program was developed in collaboration with GI specialists, and many doctors refer to our program. However, a referral is not required! Every client starts with an Initial Assessment ($145/60-min) before deciding on the program length or choosing individual follow-up sessions.
IBS Treatment Reviews By Recent Clients:
I was very hesitant initially to participate with an online program. However, Nishaat's approach immediately set me at ease and I didn't feel a high pressure sales pitch. She was very professional along with her warm and friendly personality. A very long journey with IBS is now easier as I understand dietary and emotional triggers. And now I have the confidence to know when and how to manage my symptoms. Thank you so much Nishaat – I will happily contact you if I need a reset! February 2023, via Google.
The best part about starting the NutriProCan IBS program is that it's given me the tools and guidelines of how to live my life, with my IBS symptoms being at an all-time low. When I first started the program, I was low on energy, bloated 24/7, in constant pain from stomach cramps and had issues with my skin. Now that I've been on the program, I understand what my triggers are, what to avoid and what to add to my day-to-day routine to have a much happier, healthier lifestyle! My energy levels have gone up, the bloating and stomach aches have reduced to a minimum, and my skin is the best it's been in years. People told me that once you have IBS there's nothing to do other than get used to living with the pain. But with the help from Nav Sharma at NutriProCan, we've been able to prove that wrong and get my body to the place it is today! I'd definitely recommend anyone to work with NutriProCan no matter their health issues. Janoah, July 2022 via Google
I've had IBS for a very long time and never knew what to do. I tried different medications and it had more side effects than benefits. So I decided to contact nutriprocan after reading all the reviews. And it has been one of the best decision of my life. I met Nishaat who guided me through my journey. She is very detail oriented and know how to work with you ,your life style your preferences…..She is just amazing. This has been the best investment I have done in a very long time. All I have to say is invest in your health and life gets better. And a huge Thank you to Nishaat! Sue K., April 2022 via Google
Nishaat was Amazing!!. She was very helpful and quickly got me on the right track with the LOW FODMAP approach. One of my goals was weight loss which was very easily achieved with Nishaat's guidance. I would definitely recommend Nishaat – I would give 6 stars if I could :), Matthew Stewart, February 2022 via Google
Download a Detailed IBS Program Overview
Results depend on the individual situations, the severity of symptoms and adherence to plans. Services by NutriProCan registered dietitians are covered by many employee health benefits and health spending accounts. Our services are also tax-exempt and deductible. However, our services are not covered by OHIP, MSP or AHCIP.