So the other day, I came across this MASSIVE box of local Roma tomatoes at the supermarket for only 4$! I thought to myself, how can I best utilize and showcase all of these beautiful tomatoes without any going to waste? As you may know, tomatoes love to grow in hot weather. My guess is that our recent hot summer helped these babies grow in great abundance. However, a sudden change in weather to a more autumnal, chilly season has come upon us. I thought, how do I combine the sweet, bold flavours of these beautiful tomatoes with a more rustic, warm and spicy feel of autumn? So I came up with this recipe I'm sure you will LOVE for you and the WHOLE family!
Fun facts: This recipe makes1 large pot of wonderful soup! (approx. 8 servings). It is PACKED with beta-carotene (vitamin A), low in fat and calories, and is a good source of vitamin C. This makes an excellent veggie side dish and pairs beautifully with a vegan grilled cheese sandwich on a chilly autumn day!
What you'll need:
A large pot
A hand blender (or a large regular blender)
Baking sheet
Parchment paper (optional)
Knife and cutting board
Ingredients:
– Tomatoes (I used about a dozen small Roma tomatoes)
-2 medium-sized white onions
-4 cloves of garlic
-2 medium-sized carrots
-1 tbsp. rice (jasmine/basmati preferred, but anything will work!)
-Spices: paprika, turmeric, cayenne, celery salt, nutmeg, cinnamon, dried basil (add about ¼ tsp of each (with the exception of cayenne, only add a dash) or just eyeball it)
-1 tsp. sugar
-1 tsp. agave (you can use honey for a non-vegan version)
-2-tbsp. olive oil
-1 tsp. of apple cider vinegar
-1 tsp. tomato paste
-Fresh basil (optional, for garnish)
-Salt and pepper (to taste)
Instructions:
Line a baking sheet with parchment paper or spray well with oil
Preheat oven to the "roast" setting (if you have one) at 375°
Chop up tomatoes and onions into quarters and carrots into small 1 inch pieces and peel garlic cloves
Place these vegetables onto the baking sheet and add olive oil, agave and all the spices + salt and pepper to taste
Toss all the vegetables together on the baking sheet until well incorporated and place in the oven for approximately 30 minutes or until vegetables look toasty.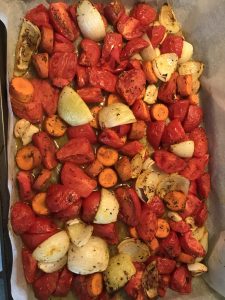 6. Remove from oven and add directly into a large pot with tomato paste
7. Cook lightly (about 1-2 minutes) and then add 4-5 cups of water and the 1tbsp of rice to the pot and allow to cook on medium-low heat for approximately 30 minutes (or until all the vegetables are very soft)
8.Halfway through, stir everything together; add water and salt/pepper (if necessary) sugar and vinegar. Do a taste test to see if you think it needs any more spices. -See picture
9.Once everything has been cooked down, remove from heat and use your hand- blender or regular-sized blender to pulverize the ingredients until smooth.
10.Top with fresh basil and cracked black pepper and serve!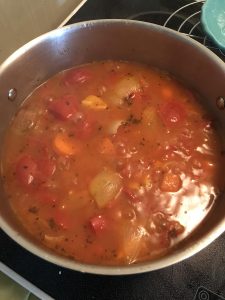 Nutrition (per serving: 2 cups)
Calories: 100
Protein: 1.4g
Fiber: 2.4g
Fat: 5.1g
Cholesterol: 0 mg
Carbohydrates (non-fiber): 12.4g
Sugar: 3.8g
Sodium: 135.3mg
Potassium: 310.9mg
Vitamin A: 64.52% (of daily value
Vitamin C: 16.21% (of daily value)
Calcium: 2.57% (of daily value)
Iron: 3.43% (of daily value)