Author: Lisa Spriet, MSc, RD
It's that time of year again… holiday party season – where your favourite festive treats are plentiful and drinks are flowing! In case you missed this blog post last year, or just need a refresher on managing holiday eating and drinking to stay on track with your health goals, this is an essential read for you.  And yes, you can indulge! Want to know how? Keep reading…
Studies report that the average weight gain is anywhere from 1-5 lbs per holiday, but what is most alarming is that we do no lose this weight year-to-year, leading to an increasing waist-line each year.
Additionally, those who are already overweight tend to gain even more weight throughout the holiday season.
Even if weight isn't a concern, holiday celebrations do a number on your nutrition.
So how do we enjoy the holidays and still keep our diet in check?
Here are some tips to avoid weight gain and stay healthy throughout the holidays:
Tip 1: Plan out your social calendar. By knowing when you have to attend events where high-calorie foods and beverages abound, you can plan to eat healthier around these events.
Tip 2: Be choosy. Do you dream about shortbread, but could care less if your turkey was drowning in gravy? Before you take each bite, ask yourself "is this worth it?" Allow yourself a few treats at each event and keep the rest of your choices healthy.
Tip 3: Eat healthy meals and snacks leading up to the holidays. If you know that you will be over-indulging at a meal, eat as well as possible the week leading up to that meal. Be proactive!
Tip 4: Have a game plan the day of the event. Begin the day with a healthy breakfast and some physical activity. Don't go to the event hungry, as you'll be more likely to make poor choices. Have a light meal with lots of vegetables, like a turkey and vegetable soup, before you go. Follow the 'Healthy Plate' at dinner: ½ of your plate as non-starchy vegetables, ¼ as lean protein and ¼ as complex starches. Limit alcohol to 1-2 drinks, as we tend to lose our inhibitions with alcohol.
Tip 5: Enjoy food! Holiday foods don't have to be unhealthy. Read below for the top holiday health foods and more tips on making wise choices!
Four Top Holiday Super-foods
Super-foods are foods that pack a punch of healthy nutrients and have been shown to have positive health benefits. Here are a few holiday super-foods to include at your holiday meals.
Pumpkin. With only about 100 kcal per half cup, pumpkin is high in fibre (important for digestive health and weight control), potassium (important for controlling blood pressure) and beta-carotene (think eye health). However, pumpkin pie can tip the unhealthy scale at over 300 kcal and 14 grams of fat per 1/8th of a pie. Make pumpkin pie healthier by going crust-free, or use pumpkin in muffin batter to up the fibre content.
Cranberries. These bright red super-berries are backed with anti-oxidant and anti-anti-inflammatory phytochemicals proanthocyanins, anthocyanins, flavonoids and phenolic acids, all which have proven benefits to health. These health benefits associated with eating cranberries includes reduction in urinary tract infections, reduction is cholesterol levels and heart disease risk and cancer prevention. With almost 5 grams of fibre and less than 50 calories per cup, cranberries are a holiday super-food. However, cranberries are often cooked with large amounts of sugar to make the quintessential turkey topping, resulting in up to 250 kcal per cup and 100 grams of sugar! Make your own cranberry sauce and use only ½ of the sugar called for.
Turkey. Whether you choose light or dark meat, turkey is lower in calories and fat than other meats, but still packs a punch of protein (almost 30 grams per 100 gram serving). Turkey meat also provides selenium, an anti-oxidant support mineral, as well as zinc and B-vitamins, both important for overall health and energy levels. Refrigerate left-overs within 2 hours of cooking the turkey for an easy weekday lunch or dinner.
Potatoes. Yes, that's right! Potatoes, in their natural form, are healthy. Each medium potato with skin has almost 5 grams of fibre and over 25%DV for both vitamin C and potassium. Potatoes are also a great source of readily available carbohydrates, which are important to fuel your daily physical activity. However, we often peel and boil potatoes, which results in the loss of many of these nutrients, and then mash them with large amounts of butter and salt. Try replacing the butter and milk, usually used in mashed potato, with low-sodium chicken stock and mash the potatoes with the skin on for more fibre.
Making wiser holiday choices
| | | | |
| --- | --- | --- | --- |
| Instead of… | Kcal | Choose… | kcal |
| 1 cup egg nog | 350 kcal | 1 cup apple cider | 120 kcal |
| Rum and Coke | 250 kcal | Vodka and Soda | 100 kcal |
| 6 Swedish meatballs | 190 kcal | 6 shrimp with 1 tbsp cocktail sauce | 100 kcal |
| 2 tbsp cheese ball with 4 crackers | 315 kcal | 2 tbsp of hummus with 8 carrot sticks | 105 kcal |
| 1 candy cane | 70 kcal | 1 stick sugar free gum | 0 kcal |
| 2 mini quiche | 120 kcal | 2 slices cucumber with 1 tbsp hummus | 40 kcal |
| 2 oz fried potato latke (2 small) | 200 kcal | 2 oz baked potato latke (2 small) | 100 |
| ½ cup sweetened applesauce | 95 kcal | ½ cup unsweetened applesauce | 50 kcal |
| 1 shortbread | 100 kcal | 1 tangerine | 40 kcal |
| ½ cup mixed nuts | 440 kcal | ½ cup fresh fruit | 60 kcal |
| 1 slice pecan pie (1/8th pie) | 480 kcal | 1 slice pumpkin pie (1/8th pie) | 190 kcal |
| ½ cup specialty ice cream | 260 kcal | ½ cup frozen yogurt | 100 kcal |
| Fried jelly-filled sufganiyot, 2 inches | 300 kcal | Baked jelly-filled sufganiyot, 2 inches | 115 kcal |
| 100 g ham, roasted | 320 kcal | 100 g turkey, light meat, no skin | 145 kcal |
| ½ cup stuffing | 180 kcal | ½ cup sautéed mushrooms | 40 kcal |
| 1 cup mashed potatoes (with butter) | 240 kcal | 1 cup baked acorn squash | 115 kcal |
| 3 slices bacon | 150 kcal | 3 slices back bacon | 70 kcal |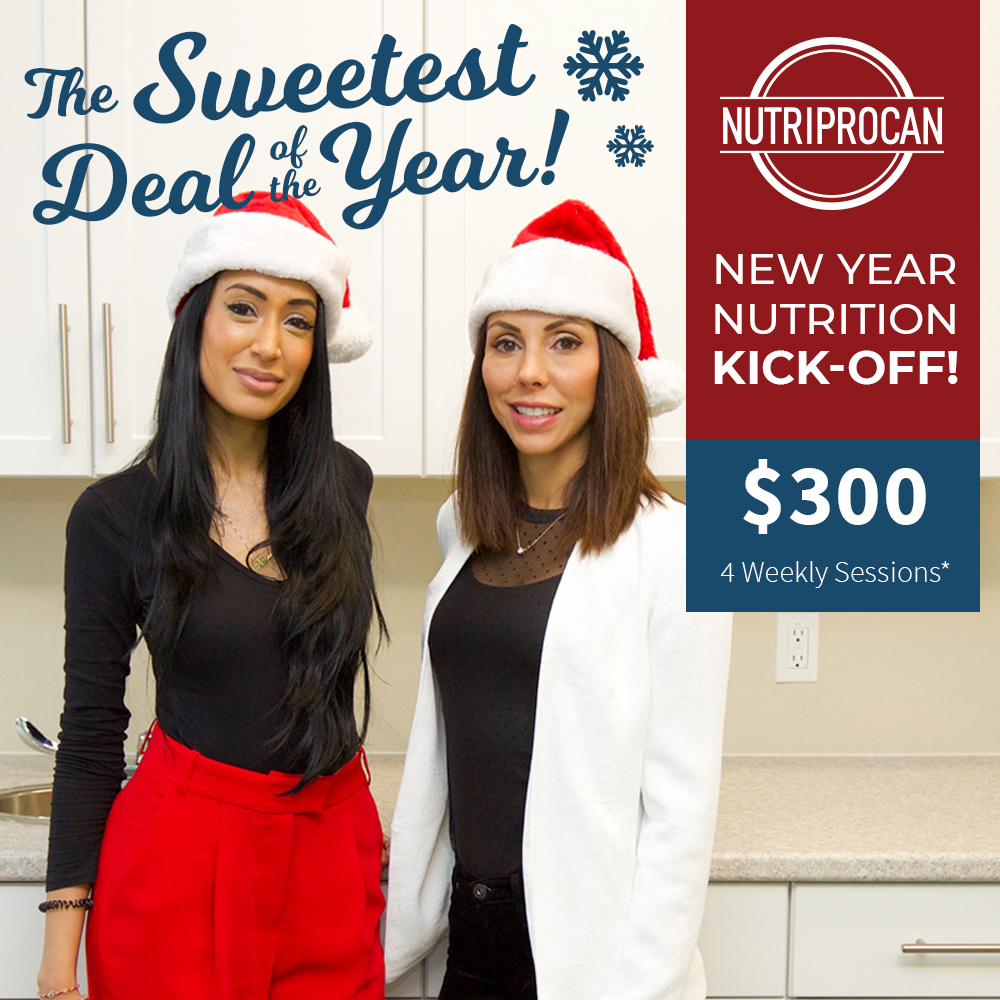 Request a complimentary call to discuss your health goals: https://nutriprocan.ca/free-consultation/