By Nav Sharma, Registered Dietitian
For those of you living or spending much of your time with your partners: have you ever noticed how hard it is to make positive changes to your nutrition if your partner's not on board? You're definitely not alone! Many of our clients have expressed how difficult it is to stay on track when watching their significant others 'down' their favourite treat like those tangy, delicious Miss Vickie's Sea Salt & Malt Vinegar flavour kettle cooked potato chips (okay, I think my mouth just started watering…). Anyway, our clients are not wrong for feeling tempted and even caving during those times. It can be even harder to say no to those temptations for those of us who are emotional or stress eaters. Research actually finds that people are less successful in making healthy changes if their partners are not on the same page and more successful long-term if their partners make changes as well.
Now, just as a reminder, unhealthy lifestyles are a leading cause of chronic disease worldwide. The key lifestyle risks are poor diet, excess weight, physical inactivity, alcohol consumption, and smoking. So, switching not-so-great habits for more desirable ones is worth it to reduce your risk of disease and is even more achievable when your partner is involved.
In this blog, we'll explore the benefits of working together as a couple and some tips on ways to support each other!
Benefits of Working Together
There is no doubt that nutrition goals can be achieved on your own without the support of your partner but studies show that when couples make changes to their nutrition together they are more likely to succeed.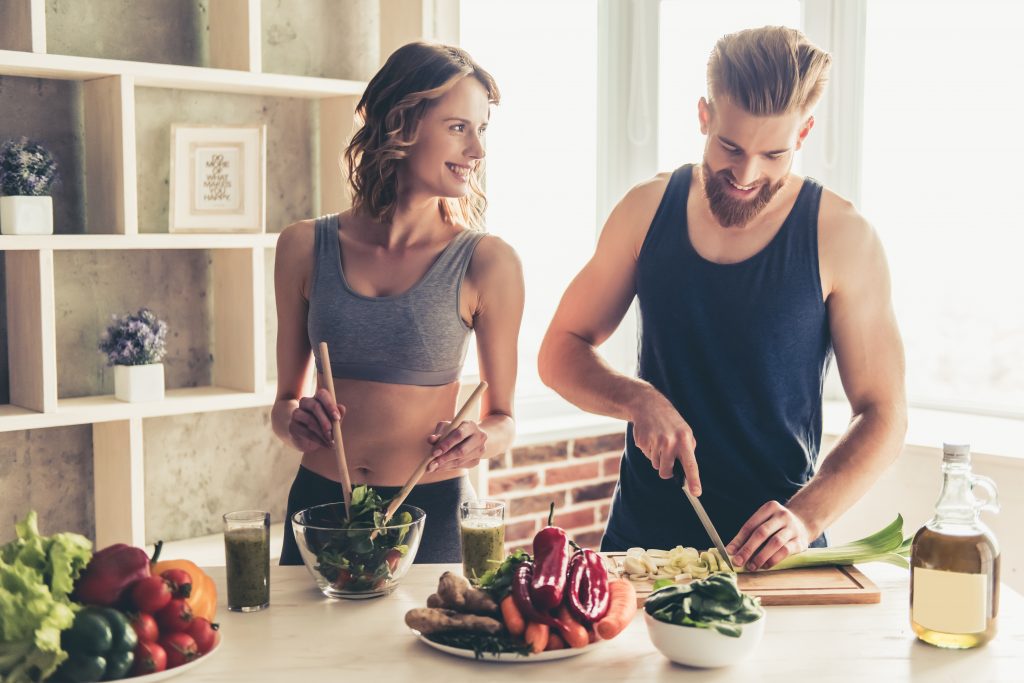 Top 6 Reasons Why Partners Should Work On Nutrition Goals Together
Partnership – By working together as a team to reach a common goal like improving your nutrition, your relationship with your significant other is instantly strengthened. And having a stronger relationship means having a more powerful foundation for a long-lasting, positive experience together.
Support – Change isn't easy and so committing to change of any kind will most likely include some obstacles. Having a partner to pull you through those times by helping you face and overcome each challenge is a huge advantage.
Soundboard – As you embark on this journey together, you will continue to learn together. Sharing ideas and tips for what works and what doesn't work can help to generate a new understanding and excitement towards healthy eating. As a bonus, it will also improve your communication with your love!
Accountability – Having your partner in your corner will hold you responsible for staying on track by making sure you don't just mindlessly start snacking on a Mars bar. Overall, it is also just a great feeling knowing someone is constantly there for you and needs you to help them.
Celebration – You know what's better than celebrating your SMART healthy eating goals and accomplishments? Both of you celebrating them — together! Whether you choose to make a fun "cheat" meal together that you both have been craving or decide to take a trip to Niagara Falls or the spa, choosing a reward that works for both of you will keep things exciting! In case you don't know what a SMART goal is or how to create one, check out this blog: https://nutriprocan.ca/smart-nutrition-goals/.
Fun – With all of life's stresses, creating healthy eating goals as a couple can bring on some inspiration and pleasure. It can also bring out much-needed positivity and humour, which is my favourite! I mean, who doesn't love to laugh and have fun?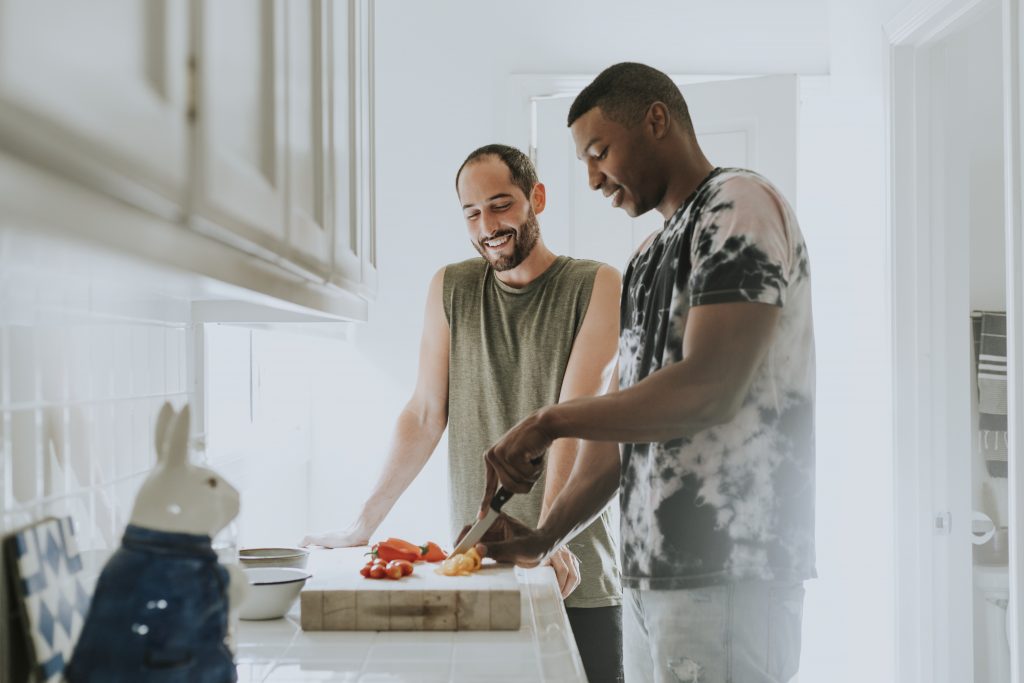 11 Tips For Making Healthy Nutrition Changes as A Couple
Now that you know the key benefits of working together, here are some tips for you and your significant other to make sure you are successful!
Make it a team effort! We already know that nagging, using scare tactics, or playing the bad cop doesn't really work. Take the "we're on the same team" approach. Let your partner know that you're his/her biggest fan. When he/she wins, you win and when he/she makes the effort, even the smallest of steps, you'll be cheering them on.
Create a couple's grocery list and meal plan! Having healthy foods at home sets the foundation for healthy eating. To make sure healthy food is available, set a time each week to prepare your weekly grocery list together. This makes for an ideal time to organize the meals you would like to prepare for the week ahead. Your grocery list should include produce that you both enjoy, lean and plant proteins, low fat dairy items and whole grains. When planning recipes, include ingredients you both like so that you aren't having to prepare more than one meal at a time.
Plate out your portions! Living together can sometimes create a less formal environment. You can dip straight into the pot for a few bites of your dinner or pick at foods while around the house. Be sure to plate out your food, even if it's just for a snack. By plating foods out, it provides a better estimate of how much you are eating. The focus of your plate should be ¼ protein, ¼ healthy carbs and ½ vegetables. Fibre rich veggies can fill you up without providing calorie overload.
Out of sight, out of mind! When trying to stick to making healthy changes as a couple, it is important for you both to limit bringing in unhealthy foods including chips, cookies, chocolate, soda, etc. If junk foods are out of sight, you'll be less likely to indulge on them making it easier to stay on track. There are many ways to swap out those less healthy snacks for better options. Air-popped popcorn can make a great substitute for chips and no-sugar-added dried fruit can help cure any sweet tooth!
Make a new date night! As a couple, ordering in or eating out at restaurants can become a pretty common date night. The problem is that restaurant meals can often have hidden calories and be served in large portions. A great solution is getting creative with cooking in your own home. Cooking at home allows you to control your ingredients, limiting excess fat and salt. It also can serve as a fun way to bond in the kitchen. As a good alternative, try incorporating different activities for date night versus having dinners out. Bowling, hiking or seeing a movie are fun non-food related activities!
Turn off the TV when eating! It is easy to enjoy a movie while munching on popcorn or even sit in front of the television while eating your nightly dinner, but those habits might not be so healthy. When you are watching television while eating, you are often distracted. This can lead to overeating since it is easy not to pay attention to when you are full, but when the food on your plate is finished. Try enjoying dinner time at the table together without any distractions!
Be sensitive about your partner's progress! It can be discouraging for your partner if they are having more challenges than you. Sometimes things such as emotional eating and willpower can affect one's progress. Remember to be encouraging and gentle when talking about your new achievements. Always leave the lines of communication open and ask questions so that your partner can discuss their challenges comfortably.
Replace negative comments with positive feedback! Instead of trying to dictate your partner's choices – the takeout they order, the type of exercise they do – talk to them, let them know how much they mean to you, and how much you look forward to spending many active healthy years together.
Never say "never"! – Take it one day and one change at a time. Instead of thinking, "We can never have a hamburger again!" switch the fattier meat for lean ground turkey breast, then jazz it up with some of your favourite seasonings – spices, tomatoes, mustard and onions. Even if you or the love of your life doesn't like it quite as much, decide together to hang in there for at least three full months because scientific studies have found that our taste buds really can adapt – it just takes time. Read this blog for food swap ideas: https://nutriprocan.ca/low-cal-nutrient-dense-food-swaps/
Don't call it quits! If you do indulge more than intended, just remember that you can start back fresh the next meal. If you are both struggling with motivation, continue to remind each other why you want to lead a healthy lifestyle and get right back on it. You have each other to lean on for support and that is a key to success. For more great ideas to increase your motivation, check out this blog: https://nutriprocan.ca/tips-to-increase-your-motivation-to-eat-healthy/
Ask for help! If you and your partner would like to start making some improvements to your nutrition but are unsure where to start, it's never a bad idea to seek professional advice. A professional can also help to keep you accountable, brainstorm with you and track your progress. I may know a dietitian or two in case you're looking. 😛
You're far more likely to live healthier if your partner is on the same page (or at least close to it). To learn more about how NutriProCan Dietitians can help couples work together to achieve their nutrition goals, please contact us or download the Couples Nutrition Program overview: https://nutriprocan.ca/services/couples-program/