By Lisa Spriet, Registered Dietitian
Are you looking to go plant-based (also called plant-focused)? You're not alone! Recent research shows that over 25% of Canadians are planning to move to a plant-based diet. While this is, well, awesome, don't make the change without knowing the whole picture. Keep reading and learn what you need to know about plant-based eating!
What's causing the shift to plant-based eating? There are lots of reasons including recent documentaries, studies showing positive health outcomes, increased awareness of the environmental impact of our food choices, as well as the potential for cost-savings.
What is a 'Plant-Based Diet?'
Although there is no official definition for "plant-based diet", the Dietary Guidelines Advisory Committee (DGAC) calls it a diet "that emphasizes vegetables, cooked dry beans and peas, fruits, whole grains, nuts, and seeds." Ultimately, It's a way to consume more plant food sources, ranging from eating lots of plants along with animal products, to complete veganism.
The key principles of plant-based eating:
Having most of your food of plant origin
Eating more unprocessed foods and limiting processed foods
Taking an environmentally sustainable approach to eating
Common Plant-Based Eating Misconceptions
We hear a lot of misconceptions about plant-based eating. Here are some important points about what it is NOT:
A regulated or recognized scientific or medical term
Complete avoidance of all animal products
Cutting out protein from meals
Buying only products labelled as plant-based
What are the differences between plant-based eating, vegan and vegetarian diets?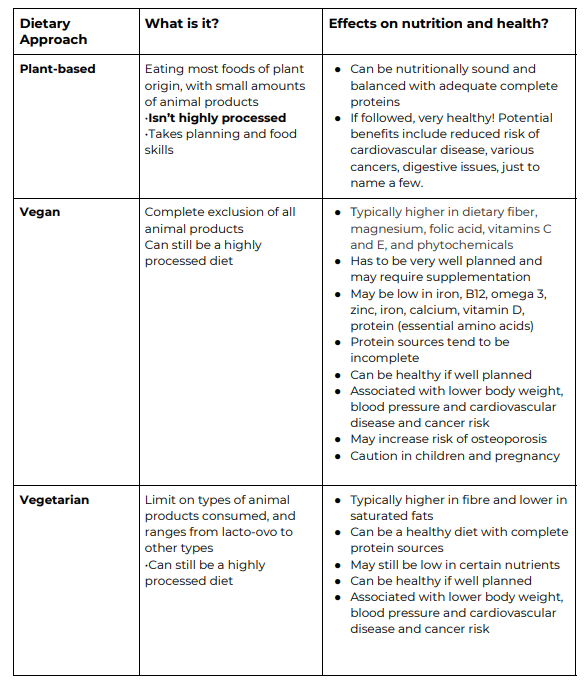 Why Should Someone Go Plant-Based?
Here are a few reasons why people may choose to go plant-based:
Concern for animal welfare
Concern for the environment
Increased health
Decreased food costs
Food allergies or intolerances
While most of the research is based on vegetarian eating patterns, here are some of the early research findings regarding the human health benefits for those who follow plant-based eating:
Lowered blood pressure
Lowered cholesterol levels
Reduced risk of cardiovascular disease of 25% or more
Reduced risk of overall mortality
Reduced body mass index (BMI) which is a measure of body weight
Reduced risk of type two diabetes and improved blood sure control
Reduced risk of various cancers
Improved digestive health, likely secondary to improved gut bacteria
Here are the reasons why: Plant-based diets tend to be low in overall calories, saturated fat and cholesterol and high in fiber, polyunsaturated and monounsaturated fatty acids, antioxidants, micronutrients, vegetable protein, plant sterols. An important thing to note is that the health benefits are seen whether weight loss happens or not, which is pretty cool.
When we look at the research regarding the environmental impact of a plant-based diet, we also see a lot of potential. In general, agricultural production of plants leads to lower greenhouse gas emissions as compared to animals. However, food processing and transportation can also have a large environmental impact, hence why a true plant-based eating pattern, which focuses on minimally processed and homemade foods, is a better alternative to eating processed foods, whether animal based or vegan.
Download your how-to guide to plant-based eating here!