We are living in unprecedented times. With the COVID-19 pandemic taken over the world, many of us are adjusting to a new normal. Being productive while staying at home is easier said than done. Add some kids in the mix and it can be even more challenging to get through the day! If you are a parent trying to ensure your child gets education through this time, you also know the value of a good routine. Keep reading and learn about a COVID-19 meal plan to help with your routines with your kids.
Why Are Routines Important For Your Children?
Here are the key reasons:
They add much-needed structure to the day for children to rely on whether they attend daycare or school. 

They establish expectations.

They foster a safe and secure environment that helps your child become confident and independent*. 
An eating routine is one of the ways to help you and your children schedule your days. This concept always applies but seems especially important right now while we are staying at home. 
The Challenge With Eating Routines During COVID-19
Many parents are finding that their kids want to snack all day as a result of boredom and no consistent routines. The lack of a meal plan or routine puts pressure on parents to prepare snacks on the fly at random times throughout the day. Snacking in this way, while tasty and quick, can lead to increased and frequent hunger. It can also result in ups and downs in energy levels and mood. 
Shifted sleep schedules are another challenge many parents are facing. Children may be skipping meals such as breakfast more often by sleeping in and/or mindlessly snacking more often by staying up later than usual. A planned schedule for both learning and eating can help keep things consistent which helps with concentration and mood. 
Benefits of Covid-19 Meal Planning
Here are a few key benefits to help motivate you to start meal planning:
Re-established daily structure and routines

Better prepared for grocery shopping/ordering 

More nutritious and filling meals with less frequent requests for snacks

Better concentration for school work and even energy levels throughout the day
The Meal Plan Solution
This is where a menu plan to match their school schedule can really help you organize your time and ensure your children (and you!) are eating well. You can even plan to include "brain foods" that help improve concentration and boost productivity!
To start a meal plan, aim to include all three food groups at main meals and at least two food groups at snack time. As a reminder, the main food groups are:
Protein foods (chicken, eggs, fish, beans/lentils, tofu, tempeh, milk, yogurt, nuts and seeds, hummus, etc.)

Whole Grains (bread, bagels, oatmeal, wraps, crackers, rice, quinoa, corn, etc.)

Vegetables (cooked or raw, leafy greens, carrots, peppers, squash, cucumbers, broccoli, etc) ) and Fruits (fresh or frozen berries, bananas, apples, pears, grapes, oranges, mangos, etc)
Top meals and snacks off with healthy fats (nuts, olives, seeds, oils, natural nut butters, avocado) to supply essential nutrients and promote brain health. 
To get your creative juices flowing, we have devised this one week COVID-19 meal plan for kids. It is complete with main meals and snacks using ingredients that help boost immunity and contribute to brain health. Most ingredients are either long-lasting, or can be frozen to last a while so you can stick to grocery shopping every two weeks and limit your potential Covid-19 exposure. From our families to yours, we wish you good health and self-care through this trying time!
For more specific or individually personalized nutrition advice, book a virtual appointment with an RD online! Video and phone counseling are available as well as free 20-minute Q&A's – We are here to support you and your family!  https://nutriprocan.janeapp.com/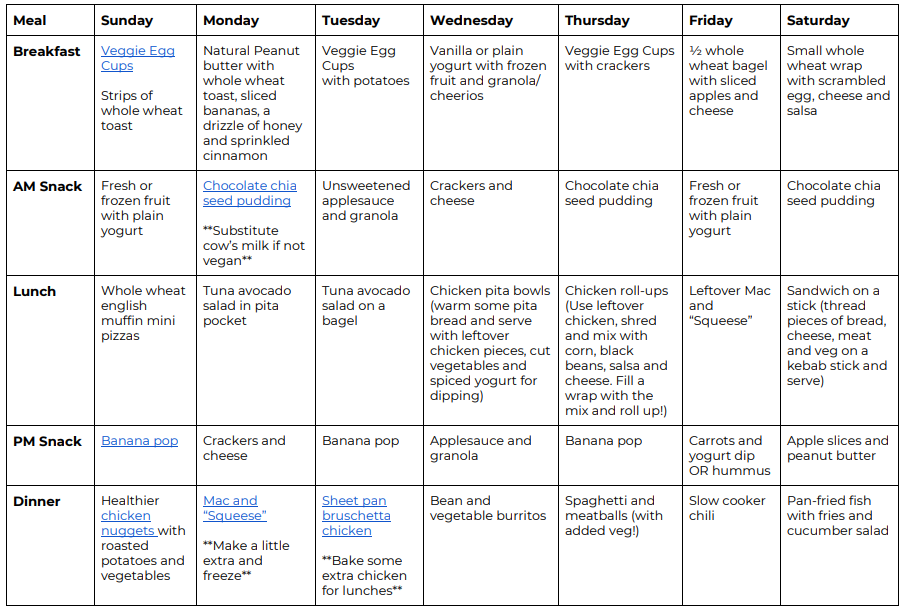 Covid-19 Menu Planning Tips
This example menu plan uses and reuses ingredients that are long-lasting like apples and carrots to cut down on the need for frequent trips to the grocery store and your potential exposure to Covid-19.

Make use of frozen vegetables and fruits when possible, this is a budget-friendly, healthy and long-lasting option. Use frozen berries with the yogurt, frozen butternut squash for the "mac and squeese" and frozen vegetable medleys for dinner time.

Cook extra to save time and enjoy your favourite meals again later in the week.

Some nutrients that are great for brain health include whole grains, some amino acids (protein), omega-3 fats, Vitamin D and B vitamins. This menu includes all of them! Some of the menu items that include these nutrients are: whole wheat bread and wraps, lean chicken, tuna and other fish, yogurt and chia seeds. Including a variety of balanced meals with these nutrients can help promote good concentration and focus for kids learning online.

Vitamins C and D can help improve immune function to help with infections (not prevent and not specific to COVID-19). Vitamin D can be found in eggs, fish and dairy in the menu above and Vitamin C in your frozen berries and oranges.