We hope you had a happy Thanksgiving! We are thankful for all of you in the NutriProCan community. If you are like many of us, once Thanksgiving dinner is over, you may find a lot of leftover turkey and wonder how to best use it. Why not try this quick, simple and nutritious recipe to help you feel lighter on your feet the next day?
The table below breaks down all the ingredients, their health benefits and recommended alternatives including suggestions to make this meal more (Irritable Bowel Syndrome) IBS-friendly.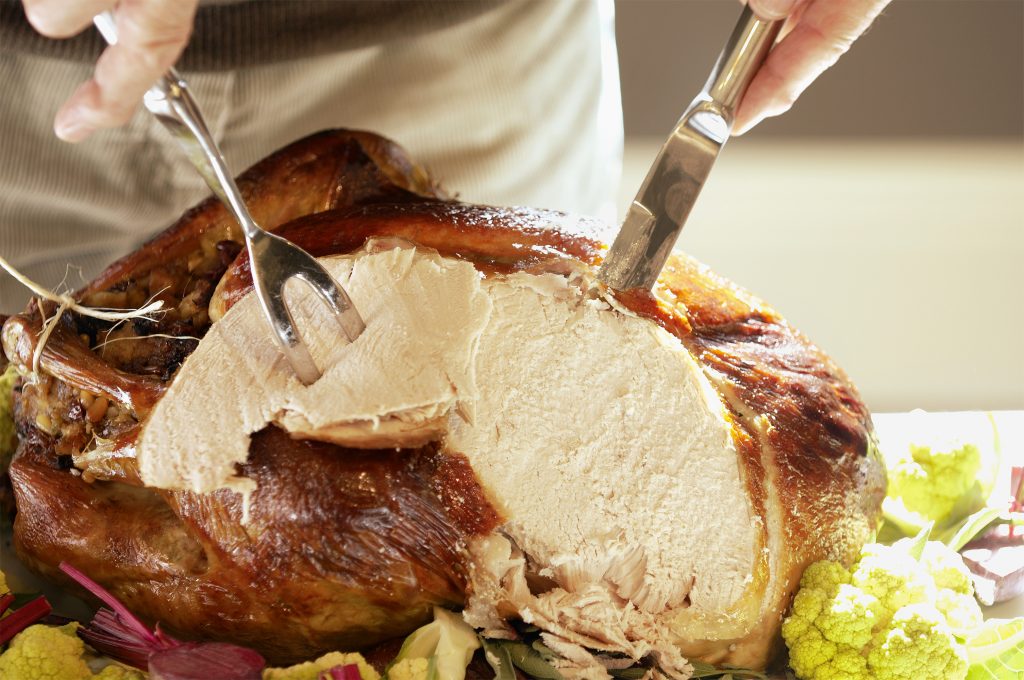 Ingredients
Alternatives / Modifications
Nutritional highlights
2 cups cooked turkey breast
Plant-based meat alternative (e.g. Lentil Meatloaf Recipe)
Turkey is a good source of protein (100 grams of turkey will offer ~29 grams!)* To reduce total fat content, choose the skinless white meat more often. Turkey is also a good source of B vitamins which help with regenerating your blood cells and forming DNA.
¼ cup onion diced
An IBS-friendly alternative recommendation would be trying Chives.
Onion is a member of the Allium family. It contains antioxidants and anti-inflammatory properties.
¼ cup celery diced
For individuals following a low FODMAP diet: Celery contains the fermentable sugar "Polyols" in the FODMAP foods. It is considered low FODMAP at ¼ cup or less.
Celery belongs to the Apiaceae family and is a good source of fiber, vitamins and phytonutrients which have been linked to reducing inflammation (1) (2)
⅓ cup dried cranberries
Raisins per preference
(Dried cranberries are considered low FODMAP food at 1 tbsp per serving) **
Cranberries are a good source of antioxidants, such as"Anthocyanin" and "Quercetin" which are linked to improved heart health. (3)(4)(5) (6) (7)
⅓ cup walnut pieces
Pecans per preference
(About ~10 walnuts or pecans per serving is considered low FODMAP)
Walnuts are a great source of the plant form of omega-3 called alpha-linolenic acid (ALA). This is an essential nutrient which means we need to consume it in our diet as we do not make it in our body. Walnuts also contain polyunsaturated fats and antioxidants such as vitamin E which have been linked to reducing oxidative damage in the brain (Coincidentally, they also look like a brain!) (8) (9)
½ apple diced

Green apples per preference
Apples are a good source of soluble fiber, antioxidants such as vitamin C and polyphenols which are linked with overall heart health and blood sugar control (10) (11)
1 tsp Dijon mustard
Honey mustard per preference
Mustard is made from seeds and a plant. The seeds are a good source of calcium, vitamin A and K while the plant is high in fiber, selenium and magnesium. (12)(13) Overall, mustard is a low-calorie condiment to flavour your food and contains antioxidants. (14)
¾ cup mayonnaise
Light mayonnaise or Avocado per preference
Mayonnaise is made of eggs, olive oil and vinegar. Although consuming this condiment in moderation would be considered heart-healthy, avocados act as a good substitute for mayonnaise and offer more nutritional benefits!

Avocados are high in fiber and monounsaturated oleic acid, a heart-healthy fatty acid. In a recent review of the research, Avocados were linked to improving HDL levels or "good cholesterol" in participants. (15)
Salt and pepper
IBS friendly spices suggestions here.
Pepper is rich in a plant compound called, "piperine" which is linked to reducing inflammation in lab studies. (16)
1-2 cups of kale/ mixed greens
Make your own mixture of iceberg lettuce, kale and/or spinach
Kale and spinach are nutrient-dense choices. They contain fibre, have high levels of vitamin A, C, and K (which helps with blood clotting). (17)
Click here to learn how to make healthy homemade salad dressings.
BLT Salad Ingredients
2 cups spinach or 1 bunch kale (Salad mix of choice ideally with dark leafy greens)
½ apple diced
¼ cup celery diced
¼ cup onion diced
2 cups cooked turkey breast
⅓ cup dried cranberries
⅓ cup walnut pieces
1 tablespoon Dijon mustard
¾ cup mayonnaise
Salt and Pepper to taste
2-3 Tbsp Lemon juice (optional to be added with Kale)
1-2 Tsp Olive oil (optional to be added with Kale)
Instructions
Wash apples, celery, and spinach or kale thoroughly.
Dice onions, apples, and celery into smaller pieces and add to a large mixing bowl along with walnut pieces and cranberries.
Cut up cooked turkey breast into cubed pieces and add to the bowl.
Add mustard and mayonnaise into the mixing bowl and stir together until well-coated.
Serve with 1-2 cups of mixed greens such as Kale, Spinach or a salad mix of dark leafy greens. (If you are using Kale, first chop and place it into a separate mixing bowl. Then, add lemon juice and/or drizzle with olive oil and massage for 1-2 minutes with hands until the kale has softened).
Add seasonings and enjoy!
Do you have questions about the role of nutrition in heart health, IBS, or about understanding your unique daily nutrition needs?
Do you need recipe modifications based on your health needs and goals?
Contact Any of Our Registered Dietitians for a 20-minute complimentary call! https://nutriprocan.janeapp.com/locations/virtual-location/
Please note this information is for educational purposes only. Consult with your primary healthcare provider if you have any health conditions prior to making any significant changes to lifestyle.