Written By: Heidi Emery, RD
The summer is here and if you're taking a look at this blog, you likely have some camping trips planned. Look no further, your camping food is laid out for you in the most useful and nutritious way!
When you think of camping foods, you may think of hot dogs on a stick and s'mores. This guide is designed to bring you a healthy and delicious spin on those nostalgic camping foods.
With a little bit of shopping and prepping before hitting the road (or packing the canoe), you can create fun, healthy, and easy meals to enjoy over your trip, without throwing you off of your game. You will be able to make multiple healthy camping meals out of a few main items and stay efficient in cooler space. Don't worry, the planning and creativity is done for you in this guide – you just have to put it into action!
3-Night Camping Meal Plan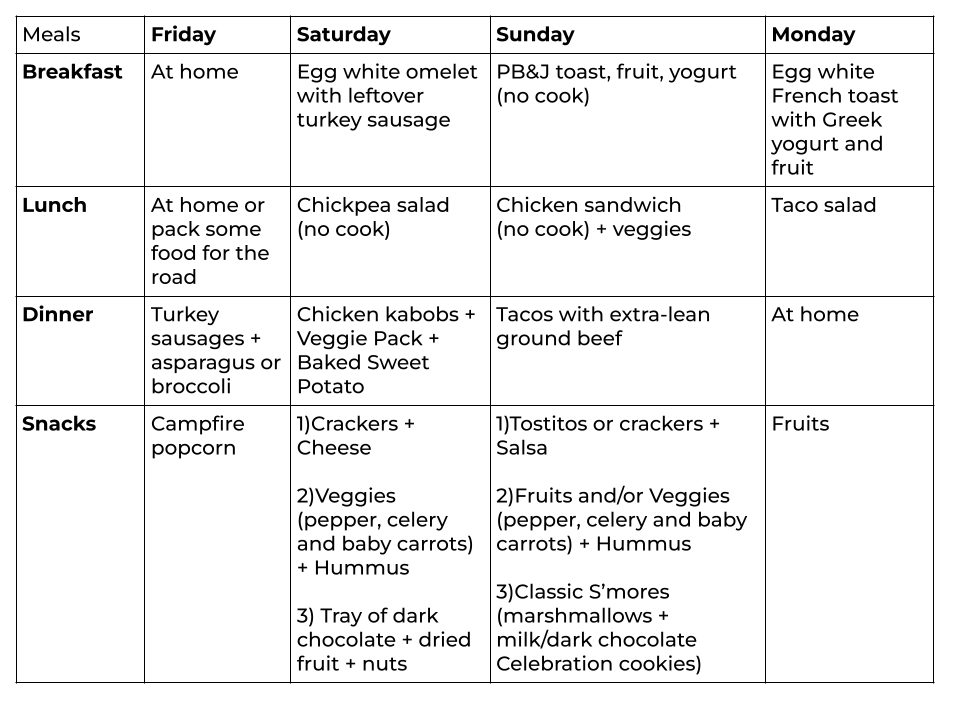 6 Camping Food Tips To Go Along With This Guide:
Put chicken kabobs into cooler frozen
Put x-lean ground beef into cooler frozen
Purchase a carton of egg whites instead of whole eggs. This will go into a cooler much easier and there's no need to worry about the cardboard getting soggy or eggs getting cracked
Purchase individual/personal size containers of Greek yogurt
Bring a small container of oil – if the weather is mild, coconut oil is great as it is less likely to spill with being more solid at room temperature
Put condiments/seasonings into ziplock bags to stay efficient on cooler space
Cooking Instructions For The Camping Meal Plan Items
Menu quantities are designed for 4 people.
FRIDAY
Turkey Sausage + Asparagus:
Cook sausages on a stick like you would a hot dog or in a skillet
Cook 1-2 per person for dinner + ½ per person for tomorrow morning's omelet (i.e. 4 campers = 6 sausages)
Cook a large bundle of asparagus in a tinfoil pack (in coals/beside flame of fire) with some oil and lemon (optional)

I recommend doing 2 layers of foil

Build sausages with buns, cooked sausage, mustard, ketchup, and sauerkraut and add the side of asparagus. Enjoy!
Campfire Popcorn
Add ⅓ cup kernels and a few tablespoons of oil to tin foil
Form a loose pouch with tinfoil and string wire or a string through the pouch
Tie the string to a stick and hold the pouch over the fire and gently shake/bounce until popped. Enjoy!
SATURDAY
Egg White Omelet
Note: You'll need ½-¾ cup of egg whites per person
Chop up cooked leftover sausage, 10-15 cherry tomatoes and 1 bell pepper
Mix 3 cups egg whites with chopped sausage and veggies and cook in a skillet over fire
Toast 4 slices of whole-grain bread over fire/grill
Chickpea Salad
Add 1 can of chickpeas (drained and rinsed) to 1 large container of Tuscan Chickpea Salad from Summer Fresh Brand sold at many grocery stores
Serve on top on romaine lettuce or mix together
Chicken Kabob + Veggie Pack + Baked Sweet Potato
Double wrap 4 sweet potatoes in tin foil and cook in coals/beside flame – start these at least 30 min prior to cooking chicken and veg.
Cook 8 chicken kabobs in a skillet (note: save 2-3 for chicken sandwiches tomorrow).
In tin foil, add 1 sliced onion, a container of mushrooms, leftover asparagus (if any) and 1 sliced bell pepper. Double wrap in tinfoil and cook in coals/beside flame.
SUNDAY
PB&J, Fruit & Yogurt
Option to have just bread or toast bread over fire
Top bread/toast with peanut butter and jam.
Add fruit to a Greek yogurt cup. Serve and enjoy.
Chicken Sandwich
Shred leftover chicken from the 2-3 chicken kabobs
Build 4 sandwiches using shredded chicken, light mayo, mustard, lettuce, and sliced cherry tomatoes.
Have carrot sticks on the side!
Tacos
Note: cook enough beef and veggie mix to go on top of taco salad tomorrow
Start cooking ground beef in a skillet
Slice onions and peppers and add to skillet and sprinkle in 1 packet or less of low/no sodium taco/fajita seasoning.
Once cooked, prep tacos using whole wheat tortillas and top with tomatoes, lettuce, salsa and plain Greek yogurt.
MONDAY
French Toast + Yogurt And Berries
Soak 4+ slices of bread in remaining egg whites
Cook in skillet
Top French toast with plain Greek yogurt and fruit
Taco Salad
Note: Use cooked/leftover ingredients from tacos to make taco salad
Place tomatoes, plain Greek yogurt, salsa and leftover beef and veggie mix over a bed of romaine lettuce. Enjoy!
Grocery List/ Packing List For Food:
This camping grocery list is designed to feed 4 people! Since many items are used in multiple recipes, we have completed one grocery list for you rather than individual grocery lists for each recipe. You can simply adjust quantities as you feel necessary to suit your group.
**All items to go in your cooler are noted with a double asterisk. All other items are suitable for your food bag.
Produce:
**1 large bunch of asparagus or 1 large bunch (3 stalks or more) of broccoli
1 lemon (optional)
1 large container of cherry tomatoes
**1 large bag of baby carrots
**1 pack (3 heads of romaine lettuce)
2 onions
**1 package of sliced mushrooms
Fruits – apples, banana, orange, peach, pears

Notes:

Choose what is preferred, but recommend options that don't need to go in the cooler
Fruits with harder skins are less likely to get bruised
Choose items for 2 breakfasts and some snacks (recommendation: 12+ pieces of fruit)

6 bell peppers
**1 bunch of celery
Fresh Premade Items:
**1 container of hummus
**1 Large container of Tuscan Chickpea Salad from Summer Fresh – typically found with hummus and other fresh dips
Proteins:
**6-10 turkey sausages
**8 chicken kabobs (just chicken)

Note: either purchase frozen or freeze once purchased to put into cooler frozen

**2lbs extra lean ground beef

Note: either purchase frozen or freeze once purchased to put into cooler frozen
Bread:
4-8 whole-wheat sausage buns
2 loaves of whole-grain bread
1 pack of 8-10 medium soft whole wheat tortillas
Dairy/Eggs:
**8-10 Individual plain Greek yogurt cups
**1 carton (1L/1kg)
**1 small brick light cheddar cheese
Miscellaneous:
1 cup oil (choose coconut oil if the weather is temperate as it will stay more solid and be less likely to spill)
**Ketchup
**Mustard
**Light mayo
**Red cabbage or regular sauerkraut
⅓ cup popcorn kernels
1 can chickpeas
1 pack of low/no sodium taco/fajita seasoning
1 jar Salsa

Does not need to be packed in the cooler until opened

1-2 boxes of crackers (recommendation: Mary's crackers)
1 large roll of heavy-duty tinfoil
String or wire (for popcorn pouch)
1 box milk or dark chocolate topped Celebration cookies
1 small bag of regular-sized marshmallows
1 bar of dark chocolate
1 cup almonds
Dried fruit of choice (variety if wanted)
Want To Optimize Your Healthy Eating Habits At Home, Work And On Vacation?
Talk to a Registered Dietitian! The first 20-minute call is free so you can learn if our approach would work for you! /nutriprocan.ca/learn-more