The balance between health, inflation and finances is a challenge that many of us face. The cost of food in Canada has increased 5.20 percent in December of 2021 over the same month in the previous year (1). So, how do we tackle this challenge and inflation proof our eating habits? Let's dive in and take a look at the top ways to combat our rising grocery bills.
What Are Inflation-Proof Foods?
The first question to ask yourself when trying to lower your grocery bill is "What am I purchasing and are there other less costly options?" We will start with the basics by exploring foods in the key food groups that are inexpensive! This is the first place to look when trying to save your hard-earned dough.
A couple of things to note:
Nutritionally, canned and frozen foods are great options and whenever possible, choose a low or no-sodium-added option.
You can always add a little salt or other flavours, but you can never take it away.
List of Inexpensive and Nutritious Foods
Protein
Fruits & Veggies
Whole Grains
Snacks
Beans, lentils, chickpeas
Root vegetables (beets, carrots, turnip, sweet potatoes)
Steel-cut or large flake rolled oats

Natural peanut, almond & cashew butter
Textured vegetable/ soy protein (TVP)
Broccoli, cauliflower
cabbage
Whole grain bread


Air-popped popcorn (or homemade
from kernels)

Tofu
Cucumber
Whole grain pasta
Bulk nuts/seeds
Canned fish/meat
(in water)
Collards and whole heads
of lettuce
Wild rice
Bake your own muffins or loaves
with half
veggies
and use
frozen berries
Eggs
Bananas
Bulgar, millet and barley
Chicken (whole or ground)
Apples, clementines, oranges
Greek yogurt
Cottage cheese
Tips To Inflation Proof Your Top Habits
Another way to combat inflation is to refine or change your habits and weekly routines! With these tips, you can expect to feel additional benefits beyond keeping dollars in your bank account. Keep reading to master the process of planning, grocery shopping and meal prepping!
Planning is a 3-step process. Here are three steps to follow to help make the grocery bill a little less costly!
Step 1
We suggest starting by planning your meals (breakfast, lunch and dinner) and snacks for the week to reduce food waste. During this process, make sure to plan two or more plant-based meals. As you saw above, plant proteins are typically less expensive than animal proteins making them a great addition or substitute to meals. Utilize the List of Inexpensive and Nutritious Foods above and choose in-season foods while planning your meals to help reduce the costs. Additionally, consider items that can be used in multiple meals e.g. kale in your smoothie and in your soup, or chicken in your salad and in your whole grain sandwiches. This will avoid waste and feeling like you are eating the same thing again and again because you bought a larger amount to save.
Step 2
Create your grocery list! During this step, take inventory of the items you already have in your fridge and pantry (check those pesky back corners). You may already have some items you need or maybe you can do an easy ingredient swap such as using navy beans, lentils or chickpeas instead of kidney beans. Another great cost-reducing tip is to substitute lentils for ground meats. Not ready to go all the way plant-based? No problem, start by trying half ground beef and half lentils in your bolognese!
Step 3
Plan where you shop! Here are a few tips to choose the best store for you:
Select a less expensive store such as Real Canadian Superstore, No Frills, Walmart or other of your choice.
Stores such as Bulk Barn are great places to purchase both large and small quantities at lower prices! This is a great way to try new things without spending more than needed.
Select a store that is a shorter commute – Consider what your time, parking and gas are worth!
Choose stores with most of the items on your grocery list to further decrease travel and time.
Don't be afraid of shopping the store brands; just read the labels and notice there's often no significant difference in ingredients or nutrients!
Shopping – Once planning is completed, you will breeze through shopping with a list to keep you on task and avoid spending money on unnecessary impulse items, or items you already have!
The top tips for shopping include:
Shop local and seasonal when possible! If possible, make connections with local farmers.
Organic foods can have a place in your life and some benefits, but are a negative impact on your bank account and may not be worth your while.
Shop in bulk for price breaks! If you are shopping for a single person or small family, freeze the extras (yes, fruits, vegetables, and proteins) or split the quantity with other friends/family.
Check coupons and stock up on non-perishables; it'll all add up to your savings.
Have a snack before grocery shopping. Shopping hungry = buying unnecessary extras!
Meal Prepping is a must in order to avoid food waste and the cost of eating out.
Here are a few ways to put the nutritious and delicious foods you just bought to good use:
Slice veggies and portion dips (hummus) into small containers for ready-to-eat snacks.
Make dinner and lunch for the next day at the same time to avoid food waste and purchasing lunch (doubled savings and healthy portion control).
Bake or roast your chicken and other animal proteins, keeping what you use in the coming days and freeze the rest.
Meal prep items that take longer such as whole grains. E.g. make a pot of wild rice and scoop from it as needed.
When you notice fresh food getting towards its expiration date (spinach starting to wilt or carrots getting soft), wash, peel and slice them as necessary and freeze or make a pot of chilli, smoothie, soup or stew.
Organize your fridge, freezer and pantry by expiration date so you see what needs to be used first.
Entertaining? There's never been a better time for a well-organized potluck!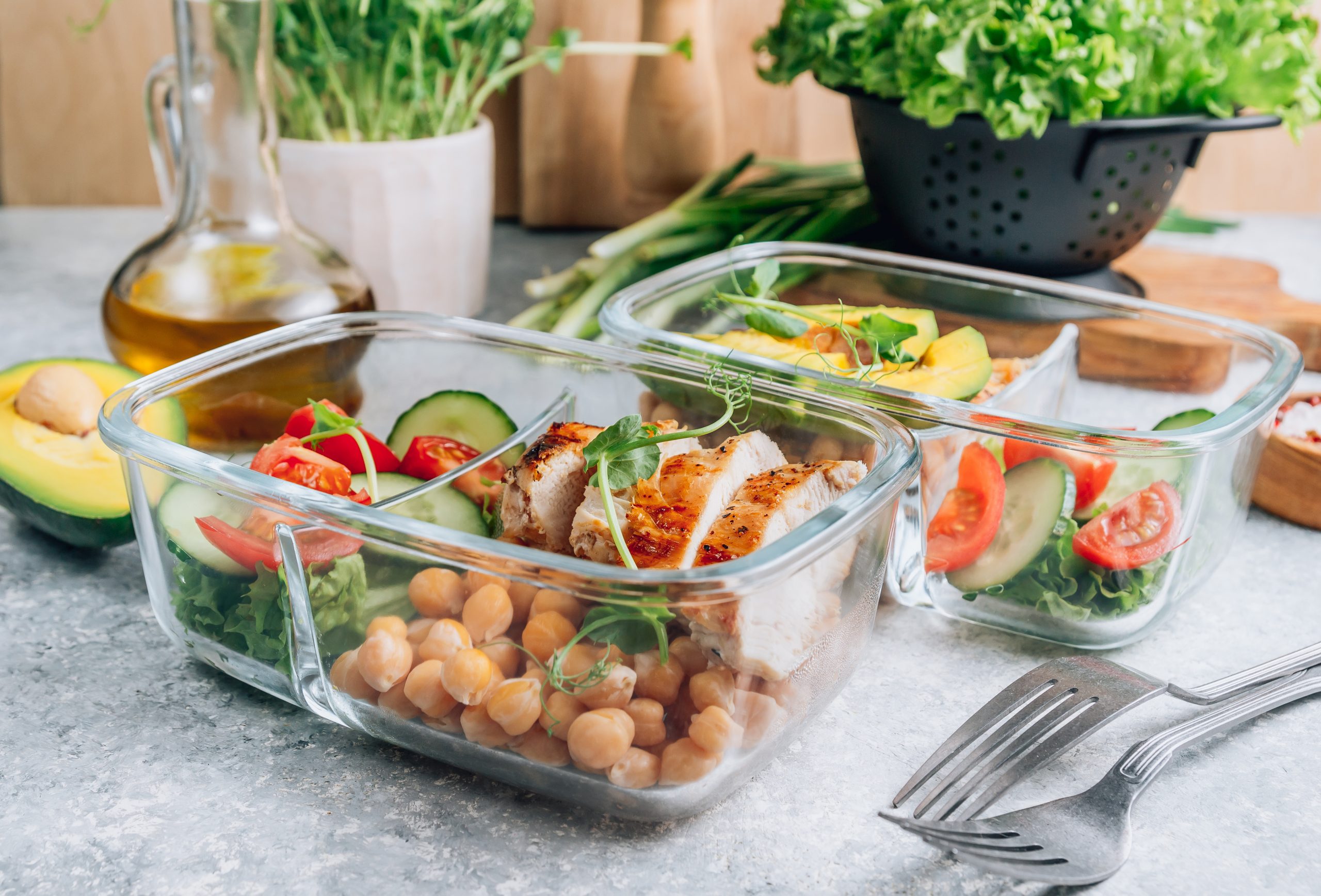 Ready To Take Your Nutrition To The Next Level?
Do you want to optimize and personalize your meal planning for your health and fitness goals? What about taking a virtual grocery shop tour to learn my pro tips and take the guesswork out of choosing the best products for you?
Book a free 20-min consult with Heidi today and I'll answer your questions and explain how I can help transform your eating habits while saving money! OR, keep reading for some helpful FAQs that Heidi receives from her clients!
FAQs
Fresh or frozen chicken?
Frozen chicken is often less expensive than fresh and has a longer shelf life! Be sure to check the ingredients and nutrition label for a low/no sodium added frozen chicken!
Chicken thighs with bone and skin or without?
Skinless chicken is the best option in regards to nutrition and the cost is not overly different! In regards to bone-in or -out, chicken with the bone is often a little less expensive, can make the chicken tastier and you can use the bones to make a soup after for even more cost savings!
How do I prepare dry lentils and beans? Do I need to soak them?
The simplest way to prepare dry lentils and beans is to soak them for 2-24hrs, then cook them, and then use them in various dishes!
Which frozen fruits are the best?
All frozen fruits are nutritious and provide many vitamins! With that, it is important to consume those with more antioxidants, fibre and less sugar more often. These most commonly include strawberries, raspberries, blueberries, and blackberries.
If I eat more plant-based proteins, how do I get enough iron?
Legumes are a great source of iron! Iron is absorbed more easily by the body when consumed with Vitamin C-rich foods AND without calcium-rich foods. This is the simplest and more prevalent point when it comes to consuming enough iron with a plant-based/focused approach to eating. However, this entirely depends on each person, preferences and other foods being consumed as well. This is a common topic discussed in sessions with a dietitian where you will receive personalized advice and plans.
What yogurt is best for protein?
The top two yogurts recommended for high protein are plain Greek yogurt and Icelandic Skyr. If the plain yogurt doesn't quite suit your palate, try mixing ¾ plain with ¼ flavoured to reduce the sugar content! To keep the saturated fat content lower, select a 0-2% milk-fat yogurt.
Another important component to consider when choosing yogurt is sugar. It is recommended to have less than 7g of sugar per 100g serving or less than 10g per 175g serving.
Citation