By: Lisa Spriet, Registered Dietitian
We've all heard the phrase 'you are what you eat' and though we often think of this as applying to perhaps our cardiovascular health and digestive health, it is also very true when it comes to skin health.
Many of the common skin complaints associated with aging – wrinkles, sagging and changes in pigmentation or discoloration – are affected by the foods we consume and the fluids we drink.
So in addition to having a great skin care routine, addressing what you're putting in your body can help to improve your complexion and help to prevent wrinkles, skin sagging and discolouration. What we put on our skin is important, but changing our skin from the inside out can lead to long term improvements in our skin health. Of course I believe, based on science, that nutrition is the foundation of good skin, but I will never skimp on my skin care routine.
Keep reading to find out what causes your skin to age, how our diets influence our skin and foods to avoid to boost your skin health!
What Causes Skin Aging?
There are some changes in skin that happen as a natural part of the aging process, and some that are caused by or accelerated by lifestyle choices.
There is a natural loss of some specific skin cells as we age, such as melanocytes which are responsible for colour, as well as a decrease in collagen and elastin production, two of the main proteins that make up both connective tissue and skin. Collagen is also an important component of bone health, and there is overall loss of bone as we age, including facial bone. Together, loss of skin cells, facial bone and these specific proteins can contribute to wrinkles and sagging.
We also lose hydration in the upper layers of skin as we age, which can contribute to fine lines and wrinkles.
Discoloration or pigmentation is often a result of continual damage caused by sun exposure and exposure to other environmental toxins.
Another big contributor to skin aging is something called advanced glycation end points – or AGEs for short – which cause the crosslinking and subsequent destruction of collagen and elastin. In addition to environmental toxins, sugar is a big contributor to AGEs ('glycation' refers to glucose, the main sugar in our bodies).
Okay, some of aging is a natural process, and I truly believe that some laugh lines are a reminder of all of the joys in life, but slowing the aging process with nutrition is possible. In fact, there are specific dietary components that affect each one of these causes of aging skin.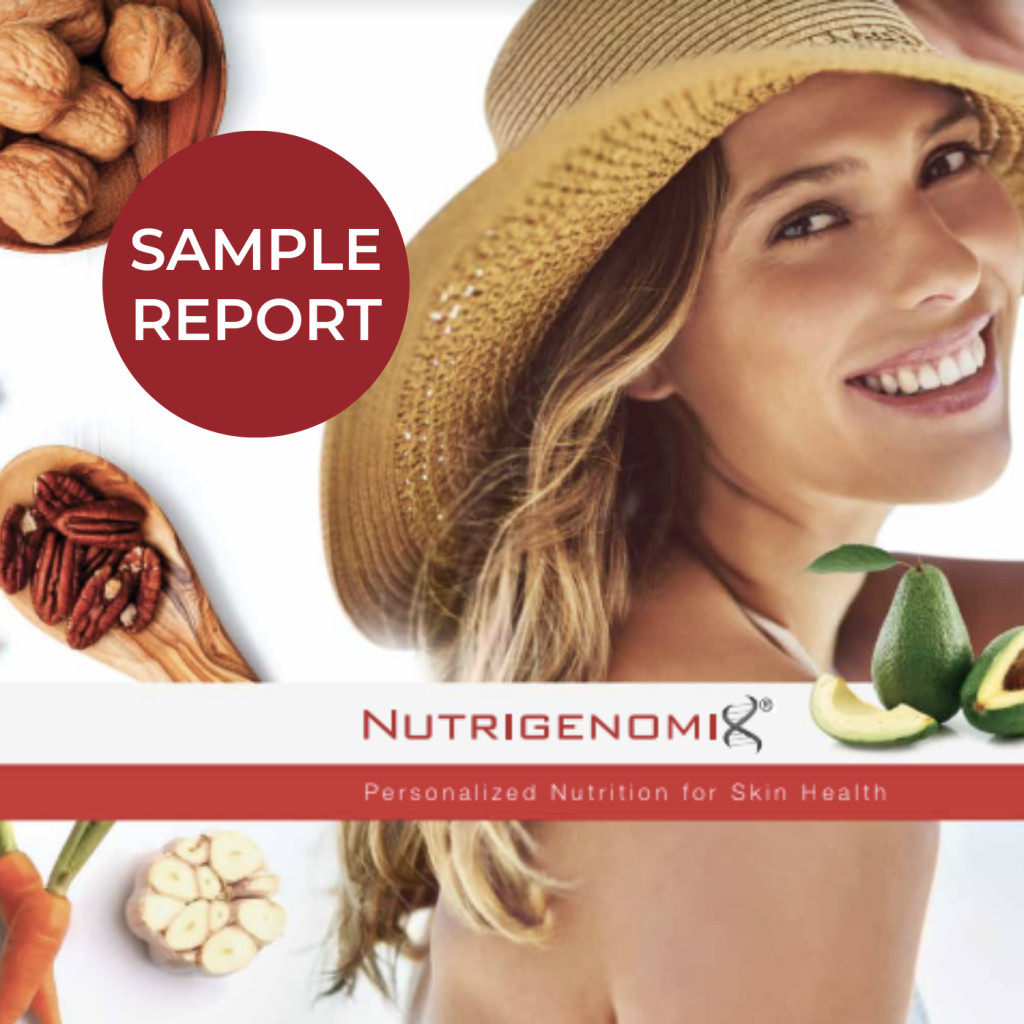 DNA Testing For Skin Health – Download A Sample Report!
Top 6 Ways Our Nutrition Can Affect Skin Health And Aging
1) Water intake. As most of us already know, 60-80% of our bodies are made up of water! So it only makes sense that hydration should come first when looking at skin health, from anti-aging to acne. A quick and easy way of getting a good start to your hydration routine is to have 2 cups upon waking, 2 cups with every meal and 1 cup with every snack. If you're more active or live or work in dry environments, be sure to have even more water. If you're struggling, consider using a water app!
2) Protein and amino acid intake. Getting back to my point about 'we are what we eat', let's chat about those two important proteins: collagen and elastin. These proteins are made of the amino acids from the proteins that we eat. Since our skin and bone are constantly breaking down and rebuilding, we have to make sure we are having protein throughout the day. Great healthy sources of protein include fish, lean poultry, eggs, Greek yogurt or skyr and plant sources of protein such as legumes, tofu and tempeh and nuts and seeds. If you are only consuming plant sources of protein, make sure you include a variety of sources to ensure you are optimizing your amino acid intake. And just in case you are wondering if you should use protein or collagen supplements, there is some research to support that supplementation with 10-15 grams of hydrolyzed collagen protein per day can help increase collagen in skin. You can also increase your collagen intake by making and consuming bone broth, which involves boiling animal bones.
3) Vitamin C. Vitamin C is an antioxidant micronutrient that is needed for production of collagen, so making sure you have vitamin C on a daily basis is important. No supplementation needed here, just ensure you're having at least 5 servings per day of vegetables or fruit and choose high vitamin C options such as red peppers, citrus fruit, strawberries and blueberries and kiwi. Yum!
4) Anti-oxidants. Speaking of antioxidants, that brings us to the next way our diet can impact our skin. Antioxidants in our diet prevent oxidation and damage to our skin cells. This can really help reduce wrinkles and changes in pigmentation. Vitamins such as vitamin C, vitamin E and beta-carotene (a precursor for vitamin A or retinol) are some of our main dietary antioxidants. Phytochemical, which are compounds produced by plants that act like antioxidants, can also protect our skin from damage. Where are good dietary sources of antioxidants? First and foremost, vegetables and fruits are the best source and some key ones to include are berries, pomegranate seeds, avocados, leafy greens, and deeply coloured orange and red veggies. Nuts and seeds are a source of vitamin E. Other high antioxidant foods and beverages include cocoa powder, turmeric, ginger, cayenne and green tea,.
5) Healthy fats. All of our cells are surrounded by something called a lipid bilayer – basically fat – and the health of each cell depends on the types of fats we eat. When we eat more omega-3 fats, like that in fatty fish, flax seeds and walnuts, our cell membranes are healthier, including our skin cells. Other healthy fats include monounsaturated fats, such as avocado, olive oil, nuts and seeds. When we eat unhealthy fats, such as too much saturated fat and fried fats, our cells become less healthy and this can reflect on our skin.
6) Fat soluble vitamins D & A. While we're on the topic of fat, let's give shouts out to vitamins D and A, two fat-soluble vitamins. Vitamin D is known for its role in bone health, which of course includes the health of our facial bones. Low vitamin D status is also associated with skin sagging. While we do have some dietary sources of vitamin D, such as fatty fish and dairy/fortified alternatives, many of us do require vitamin D supplementation. Check with your dietitian or doctor. Vitamin A is essential for cellular replication, such as making new and healthy skin cells. You can get the precursor to vitamin A, beta-carotene, from orange vegetables, as well as vitamin A itself from eggs, fatty fish and dairy products. If you've ever used a retinol product, you've used vitamin A. Just be careful not to use retinol if you're pregnant.
Foods To Avoid For Skin Health
High Sugar Foods. Remember those AGEs I mentioned earlier? Well, they are caused by having high circulating sugar levels in our blood. Sugar gets into our blood from eating too much sugar, as well as eating too many carbohydrates overall. Try to limit consumption of refined sugars, reduce any liquid sugars like juice or pop, and choose healthier sources of carbohydrates like whole grains, whole fruits and vegetables, and legumes, in moderation.
Processed foods, especially those that are fried and meats. Processed foods tend to be both high in sugar, as well as high in sodium, which can increase our blood pressure, eventually leading to damage of the capillary beds under our skin. Additionally, processed foods can be high in saturated fats and trans fats, which as mentioned, are not great for skin health. Lastly, processed foods, especially heavily cooked processed meats and fried foods, can be high in pro-inflammatory and oxidative compounds and damaging to our skin. Again, we are what we eat.
Are you interested in improving your health through nutrition?
Contact a NutriProCan Online Dietitian today for advice, tools, and coaching that are personalized based on your goals and lifestyle needs. https://nutriprocan.ca/contact/
Download An Example Meal Plan And Food List For Skin Health