Well, it's that time of year again! The weather starts to get a bit chillier, and holiday spirit is in the air. The holidays are a time for fun, family and delicious FOOD! However, the meals you make don't need to be traditional, difficult or unhealthy to be delicious. Whether it's a holiday potluck party, Christmas dinner, or a time to celebrate yourself, food is a way we can express love and happiness and what better way to do it than with this tasty "stuffing"-stuffed mushroom recipe! Bring the flavors of delicious stuffing with this nutritious and delicious vegetarian potluck pleaser that is sure to make people feel that holiday spirit!
Fun Facts
Mushrooms are one of the highest sources of vegetable proteins and natural vitamin D and are able to retain most of their nutritional value when cooked. This stuffed mushroom recipe can be easily adjusted and is super quick, easy and packed with nutrients like fiber, protein and vitamin D.
Total prep time: 5-10 minutes
Total cook time: 10-15 minutes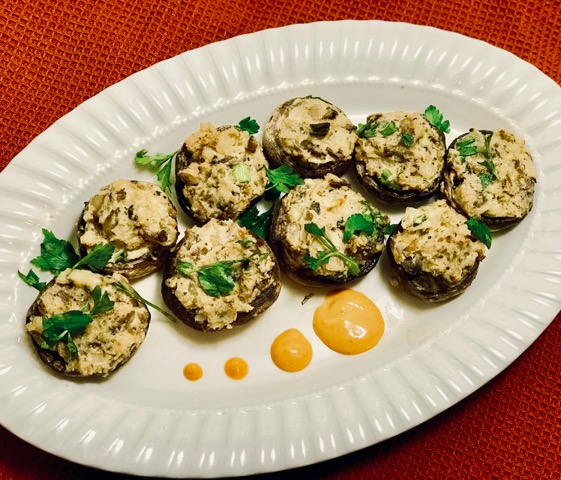 What You'll Need
A small pan

Baking sheet

Parchment paper (optional)

Knife and cutting board
Ingredients
White button mushrooms (16-20)

½ – ¾ cup light cream cheese

3-4 tbsp. instant oats (plain)

1 small white onion

Parmesan cheese

1 scallion or chives

Parsley (optional)

Onion and garlic powder (to taste)

Cayenne pepper (to taste)

Italian seasoning

or

thyme and rosemary (to taste)

Salt and pepper (to taste)

1 tbsp. olive oil

Vegetable oil spray
Instructions
Preheat oven to 400

°

Line a baking sheet with parchment paper or spray well with oil

Clean mushrooms well and pull out stems from mushrooms and place de-stemmed mushroom shells on the prepared baking sheet

Chop up onion and mushroom stems and cook in a pan with olive oil until soft

Season the mushroom/onion mix with all of your seasonings and salt+pepper to taste

Remove pan from heat and mix in cream cheese, instant oats, Parmesan cheese, and chopped scallions/chives into the cooked mushroom stem+onion mixture until well incorporated

Stuff the mushroom shells with your stuffing mixture, spray lightly with vegetable oil and place in preheated oven for approximately 10-15 minutes or until mushrooms are cooked through

Remove from oven and top with freshly chopped parsley and/or chives/scallions and serve!
Nutrition (per serving: 4 mushrooms)


Calories: 103

Protein: 7g

Fiber: 1.5g

Fat: 7g

Saturated fat: 2.1g

Cholesterol: 10 mg

Carbohydrates (non-fiber): 6.6g

Sugar: 1.7g

Sodium: 79.5mg

Potassium: 228.8mg

Vitamin A: 4% (of daily value)

Vitamin C: 4% (of daily value)

Vit D: 5% (of daily value)

Calcium: 5% (of daily value)
Related Content
Do you need help with meal planning and healthy recipes?
Contact [email protected] to connect with Nesrine at the Synergy Centre in London or with other dietitians in Toronto or Vaughan. https://nutriprocan.ca/contact/