Probiotics are those bacteria that help keep our digestive system healthy. More than this, research is now starting to show that the effect of probiotics extends beyond gut health to impact other areas of the body such as skin and brain health. Fermented foods like yogurt can be packed with these beneficial bugs, and now probiotics are being added to even more foods.  Today, we are featuring some of our favourite probiotic products, beyond just yogurt, that are available on the market.
PC Dairy-Free Kefir Probiotic Fermented Coconut Milk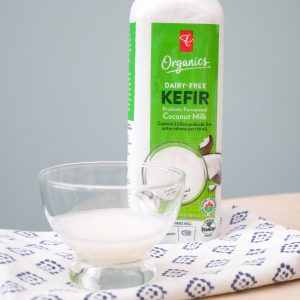 https://www.presidentschoice.ca/en_CA/products/productlisting/pc-organics-dairy-free-kefir-probiotic-fermented-coconut-milk-.html
What: President's Choice® has two nearly identical versions of this coconut milk product with one being certified organic. Both versions are dairy-free and vegan certified making it an especially good option for people with lactose intolerance, vegetarians, and vegans.
Why: This product is made with over 10 types of probiotic bacteria used to make this product and over 2 Billion active cultures per 188mL. This hugely contributes to your natural gut bacteria and contributes to good digestive health. This product is lower in calories, cholesterol, and sodium compared to its cow's milk produced competitor.
A note on saturated fat in coconut; the fat in coconuts is largely medium-chain saturated fat. These are digested differently in the body than other fats and the effects of this are continually being investigated, with being potentially heart healthy or at least have a neutral effect.
Suggested Use
This product is perfect to use in smoothies, cold cereals, and to just drink by the glass. If you have never had kefir, it tends to have a semi-thick pourable consistency and could also be eaten as a yogurt substitute with various fruits and toppings such as honey and granola.
Estimated Cost
$4.99/1L (Loblaws; 10-04-2018)
Prana ProactivChia – Ground Black Seeds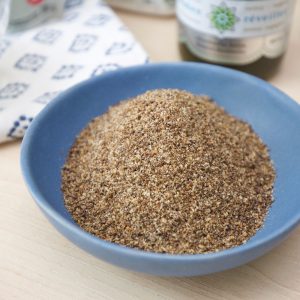 https://www.prana.bio/en_ca/proactivchia-ground-black-1548
What Is It?
Chia is a seed derived from the Salvia hispanica plant of South America. Used in the past to keep warriors strong, this product is packed full of nutrients to help you battle the day! With the 4 billion probiotics per 2 tbsp, this Prana product is also introducing healthy bacteria to promote gut health.
Why Do We Like Chia?
Protein: Chia seeds have about 3 grams of protein for a 2 Tbsp serving. Chia is also one of the few plant sources of 'complete protein' meaning that has all the amino acids that your body needs.  Omega-3's: One serving (2 Tbsp) provides over 100% of your daily requirement! Fibre: Chia seeds contain soluble fibre that can be used by your healthy gut bacteria for energy and gives your digestive system an exercise keeping it healthy and strong. This fibre also helps you feel full preventing overeating.
Suggested Use
This product is very versatile and can be used in smoothies and sprinkled on yogurts, puddings, and hot and cold cereals. Chia can also be added to salad dressings and fruit drinks to give them an extra boost. When ground and mixed with water, Chia forms a gel that can be used to thicken jams and soups. Note: cooking these chia seeds will destroy the added probiotics but you will still get all the goodness from the seed.   https://www.prana.bio/en_ca/blog/everything-about-chia/
Estimated Cost
24.99 for 1 kg (Prana Website; 10-04-2018)
GT's Living Foods Kombucha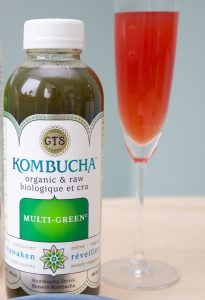 https://gtslivingfoods.com/offering/enlightened-kombucha/original-enlightened/
What Is It?
GT's Kombucha is an organically produced cultured tea. Ingredients include black and green tea, various fruit juices, and probiotic bacterial cultures for fermentation. Due to the black tea, this product does have small amounts of caffeine. A wide variety of flavours are available.
Why Do We like Kombucha?
As part of the culturing process, the tea becomes rich in probiotics contributing to digestive health, amino acids, polyphenols an antioxidant, and active enzymes. A number of the benefits of teas are believed to be extended to Kombucha such as prevention of some cancers improving the immune system and liver function, and being heart healthy. Research specific to Kombucha is ongoing.
Suggested Use
Kombucha makes a refreshing drink on its own, but get creative and try using it in smoothies, mixing it with your favourite juice, or in vinaigrettes and marinades. The effervescence created during the fermentation also makes it a great substitute for soda pop.

Safety Note
Due to the fermentation process kombucha does contain small amounts of alcohol and is therefore not recommended for women who are pregnant or breastfeeding.
Estimated Cost
$3.99/480mL or $9.49/1.4L (Loblaws; 10-04-2018)
Key Contributor: Amanda Theriault
Related Blog Post:
NutriProCan product reviews are independent opinions of our writers and they feature products that our team has enjoyed using or working with. There may be other products with similar qualities and benefits so this may not be a complete list of all the great products out in the market.