Author, Nesrine Cheikh, RD
Ah, constipation. Never fun, but oh-so common in little ones. Did you know that 1 in every 20 visits children make to the doctor are related to constipation?
Constipation is common in many children and usually begins around the introduction of solids (approximately 4-6 months) and sometimes even earlier.
When Can Constipation Occur?
Constipation tends to be most common around the start of solid food introduction, as their gut is now starting to process large complex food particles, which slows down digestion. Additionally, constipation can appear as infants enter the toddler stage. This is when food and fluid intake tend to decrease and pickier eating habits tend to surface. Constipation may be an acute issue (temporary) or one that is chronic (over most of infancy/childhood).
How Do I Know If My Child Is Constipated?
Constipation can include any of the following (2):
1. Having fewer than two bowel movements a week
2. Having hard dry pebble-like stools
3. Difficulty passing stools/painful stools
4. Child feeling that they "weren't able to finish pooping"
What Causes Constipation?
There are many factors that can influence gut health in little ones. This includes diet, supplements, lifestyle, fluid intake, medications, developmental concerns, diseases or conditions and activity level.
From a dietary perspective, low intake of fibre and higher intake of processed carbohydrates may be a large contributing factor. This tends to be more common amongst pickier eaters, since these eating behaviours tend to exclude many high-fibre foods such as fruits, vegetables, legumes and whole grains.
Many young children may also not be drinking adequate water with and/or between meals, which may also slow digestion and increase constipation. Additionally, many children may still be consuming higher amounts of milk and dairy products, which can worsen constipation.
Non-dietary causes of constipation may be due to sudden lifestyle changes that can result in "holding in their poop". These lifestyle changes can include starting daycare/school, moving, not being home all day, stranger visits, etc. Some children may also have medical conditions such as digestive diseases, reflux, gastroparesis or developmental delays influencing why they may be holding in their stools. Always rule out medical conditions with your doctor if you believe this may be the case.
Having a regular "poop" schedule with your littles ones may not be the easiest to achieve, especially as they get older. Keep in mind, however, that every child is different and what may be normal for one child may not be the same for another.
When Should You Be Concerned?
Many parents become concerned when their child is constipated, however, oftentimes it can be resolved with lifestyle and diet modifications. Complications of constipation become concerning if the following occur:
1. Bloody stools
2. Complete inability to pass stool
3. Showing refusal to eat
4. Child showing frequent signs of pain
5. Hard/swollen abdomen
6. Child developing fear of passing stool (often a result associated with pain)
7. Weight changes (significant weight loss or gain)
Top 5 Tips To Help Prevent Constipation
If you think your child may have constipation, here are a few tips to help "nip it in the "butt" and improve your child's digestive health:
Tips:
1. Make sure they are drinking enough water: offer 1-2oz of water with meals and water in a straw cup that they can sip on during the day. Stainless-steel straw cups help to keep water chilled and prevent bacteria growth and can be placed in their play area or within site to encourage drinking.
2. Avoid offering too much milk (>12months): too much dairy can cause constipation in young ones. It is recommended to not exceed more than 750ml milk daily for toddlers (unless advised otherwise by your doctor) to prevent constipation and iron deficiency.
3. Pair every meal and/or snack with a fruit/vegetable to help increase fluid and fibre intake. For example, if your child enjoys having oats in the morning, consider adding in a pureed fruit mixed in or fruits on the side. Offer fruits such as pears, peaches, plums, berries, apples, kiwi and pears as snacks or with meals, as these fruits are very high in fibre.
4. Increase fibre-rich foods: legumes, fruits+vegetables and whole grains all provide great sources of fibre. Examples include: additional chia or flax seeds into oats or smoothies, beans into a chilli, lentil dahls, whole wheat/whole grain toast instead of white, quinoa instead of rice, etc.
5. Offer more liquid-based meals such as soups, stews, chilis, curries, etc. This will help increase fluid intake and can improve digestion.
4 Sample Meals: High Fibre Menu For Under 6-Month Olds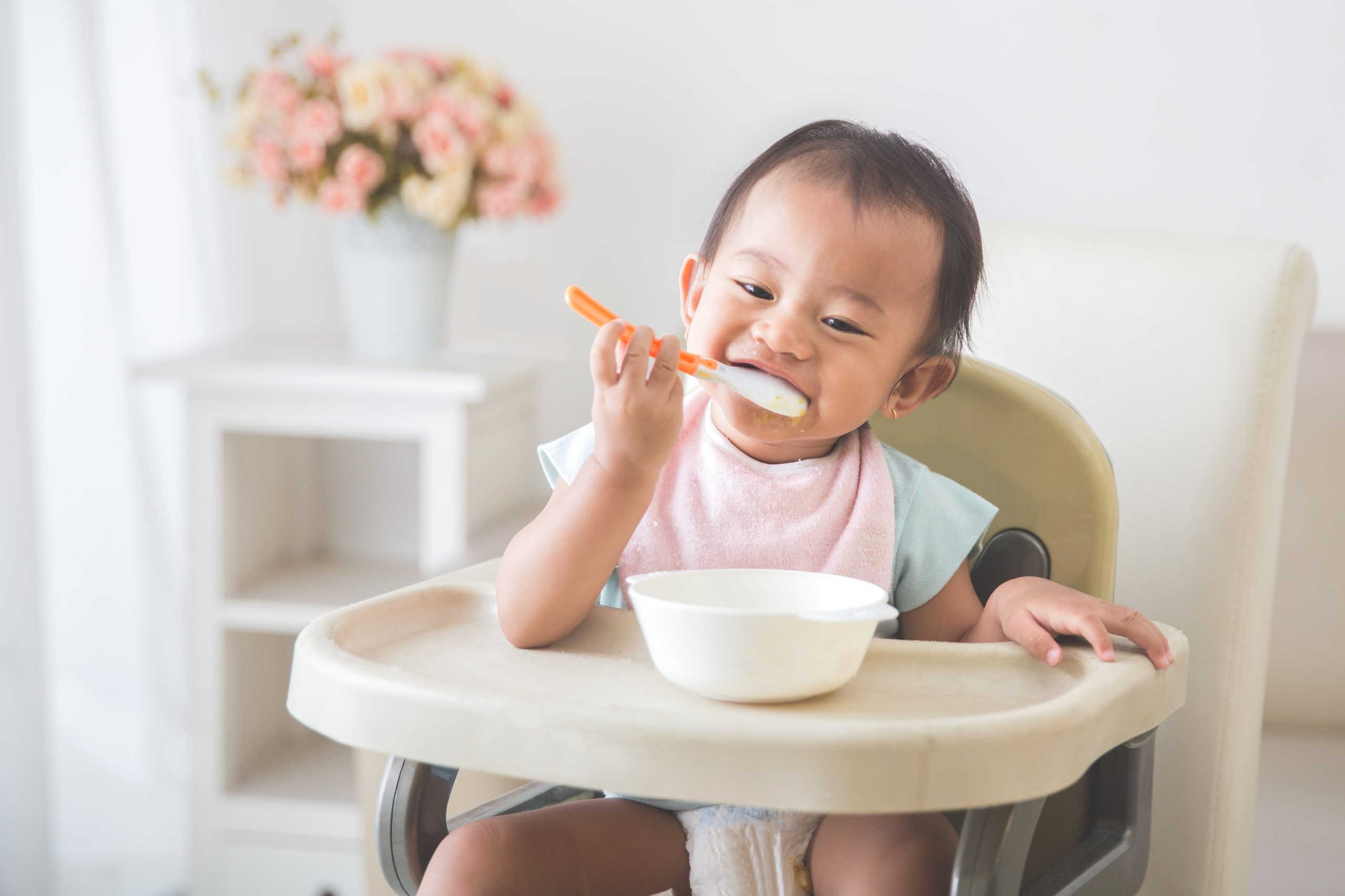 1. Breakfast: Oats with chia seeds and ripened pears
2. Lunch: whole wheat toast with avocado and steamed carrots+broccoli
3. Dinner: bean chili with vegetables and quinoa

4. Snack: smoothie (using milk of choice) with chia seeds, flax powder, pureed pears and berries
Constipation Key Takeaways
Overall, many children can overcome constipation and improve their gut health with the appropriate diet and lifestyle changes. It is important to note, however, that every child's needs are different and benefit from individualized nutrition approaches. If you feel that your child may be suffering from constipation, talking to a dietitian may be right for you.
Author: Nesrine Cheikh, RD
Think That Your Child May Be Constipated?
Our dietitians can help! Nesrine, Brianne and Kristen specialize in pediatric clients. Book your free 15-minute consultation at: https://nutriprocan.janeapp.com/
References
1. Blackmer AB, Farrington EA. Constipation in the pediatric patient: an overview and pharmacologic considerations. Journal of Pediatric Health Care. 2010;24(6):385–399.
2. https://www.niddk.nih.gov/health-information/digestive-diseases/constipation-children/definition-facts